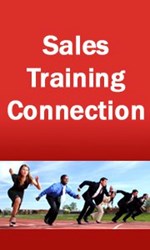 'Team selling is not a spectator sport' - Janet Spirer, co-founder, the Sales Training Connection
Scottsdale, AZ (PRWEB) September 26, 2013
Team selling is more prevalent in B2B sales and more important than ever before. Maximizing the effectiveness of any teams is hard and sales teams are no different. Not only can sales teams consist of people with different skill sets – like sales and technical expertise – or different positions – such as sales reps and sales managers, sales teams can also be made up of people crossing generations.
The Sales Training Connection, a blog about sales effectiveness and sales training, created a list of 10 laws for successful B2B sales teams.
1. Delineate Roles Clearly. Each team member must be absolutely clear about his or her role as well as the roles of the other team members. Just like a sports team, sales teams must acknowledge and understand each team member's unique contribution to the sales team.
2. Value All Roles. Every role contributes to sales team success and every role required for success should be represented. Sales team members who don't have the required skills or add unique value will generate adverse reactions from the customer.
3. Have a Shared Purpose. Successful sales teams should collectively develop a plan for the sales call and have a shared vision of the purpose of the sales call. Without a shared purpose team members often will pursue their own agendas, either by intent or through confusion.
4. Recognize the Importance of a Call Manager. Without a Call Manager teams lose their way during the sales call. The probability that the sales call is successful often lies in the leadership of the person who assumes the Call Manager role.
5. Understand the Contribution of Attitudes. Skill alone doesn't guarantee team success. Attitude is an important ingredient. Positive attitudes can lead to a sales team performing at its peak; bad attitudes can lead to a lost sale.
6. Establish Common Processes and Tools. Sales teams need to establish common processes and tools for formulating and executing their sales strategy. Otherwise the decision process is haphazard and the team will fail to learn from past mistakes.
7. Understand the Customer. Sales teams can't formulate and adjust their sales strategy unless they put in place a systematic approach for collecting, analyzing, and using the information about the customer.
8. Leverage Team Diversity. Diverse skills, experiences, and knowledge yield smarter, more effective sales teams who capably tackle challenging issues and generate creative solutions. But, be aware that team diversity also can generate conflicts and communication breakdowns – especially in complex sales environments.
9. Build Trust. Without trust team members don't believe they can count on each other. Trust doesn't automatically happen – sales teams need to work at building trust, as opposed to assuming it's there at the start, or that is will simply evolve over time.
10. Build Effective Communications. Successful sales teams encourage sharing points of view by avoiding phrases like: "won't work," "not feasible," "unrealistic," "not reasonable," "can't," "don't rock the boat," and "don't fix what isn't broke."
While many companies realize the potential power of sales teams – from leveraging their brand to maximizing face-to-face selling time – too many sales teams aren't effective. "While there are many reasons for this, including sales people preferring to operate as lone wolves or the sales compensation plan not supporting it, sometimes the solution is simpler. Salespeople don't know what it takes for sales teams to succeed," says Richard Ruff, cofounder of the Sales Training Connection blog.
You can read more about team selling at the Sales Training Connection.
About the Sales Training Connection and Sales Momentum: For more than 30 years Dr. Richard Ruff and Dr. Janet Spirer – the founders of Sales Momentum – have worked with the Fortune 1000 to design and develop sales training programs that make a difference. By working with companies – such as UPS, Smith & Nephew, Textron, the Center for Creative Leadership, and Robbins & Myers – they have learned that today's standard for a great sales force significantly differs from yesterday's picture. Janet and Richard co-authored Mastering Major Account Selling and Parlez-Vous Business. They also publish the sales blog - Sales Training Connection. Richard co-authored Managing Major Account Selling and Getting Partnering Right. The books are available at the Sales Momentum website.