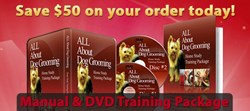 To learn more about Richard and Carol Doggett, their story and their dog groomer class, visit www.LearnToGroom.com.
(PRWEB) September 25, 2013
LearnToGroom.com, the premiere source for dog groomer training, is now offering their comprehensive dog groomer training course at a $50 discount, now priced at $249.99. The company, based in Jacksonville, Florida, offers a full 8 hour long DVD series with training manual course and a toll free consultation line that guides students through every aspect of dog grooming.
The course has been developed by Richard and Carol Doggett, a couple who began their careers in dog grooming in 1975. They organized one of the nation's first mobile dog grooming businesses, driving from customer to customer to offer their services. Since then, the Doggetts have owned multiple shops around the country, had their three children learn and launch dog grooming careers, assisted hundreds of others to launch mobile grooming careers and launched the career development package made available through their website, http://www.LearnToGroom.com.
LearnToGroom.com specializes in helping students learn to groom dogs for their own knowledge and use, or as a potential career path. The comprehensive book explains every aspect of grooming, from brushing to bathing to ear plucking to nail trimming, skin conditions, parasite care and other major topics. The dog groomer course via DVD also covers different styles of cuts covering over 30 different breeds, utilizing safety and gentle handling of the dogs.
LearnToGroom also guides students on the path to small business ownership. Students will learn how to manage business expenditures, setting up a shop, zoning regulations, advertising, bookkeeping and other aspects of the dog groomer business. Students of the course are free to use the information for their own purposes or to pursue a small business, whichever they prefer.
The course, now available at a $50 discount, has been gaining rave reviews from many customers. "Your materials have been truly wonderful, and has helped me greatly in my pursuit of working with dogs" said Earl D. from Vermont. Rhonda E. from Georgia also has had major success, opening a home-based pet salon and spa after taking the course. "It's so nice to be my own boss. I make my own hours, days and vacations!".
The course is meant to be spread over three months, but it is self-paced and can take as long or as short as a student prefers. The $249.99 price tag is a new offer, providing the same course that 1000's have taken in the past to start a dog grooming business or new dog grooming career.
To learn more about Richard and Carol Doggett, their story and their dog groomer class, visit http://www.LearnToGroom.com.