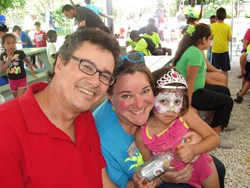 Miami, FL (PRWEB) September 26, 2013
Last month, Branches' students were thrilled as Alma (a Miami-based Multicultural Advertising Agency) spent an entire afternoon with them and celebrated Back to School. Alma employees volunteered at Branches Florida City to celebrate the end of Summer Shade camp and to ring in a new school year. However, a new school year means a lot of additional expenses for Branches families, who do not have the means to purchase all the required school materials. Therefore, Alma's team came together and provided a new back pack, filled with grade appropriate school supplies, for every single child who attended Summer Shade and every single elementary student who is part of the Branches Florida City Grow program. Over 100 students were able to go back to school, ready, equipped and excited.
Alma also provided food and drinks for the children and their families and a ton of thrilling activities. Alma brought in a giant water slide, and their employees served as face painters, manicurists and game leaders. It was an amazing day filled with fun and gratitude. Branches children even taught the Alma group how to dance some of the songs they learned over the summer, who participated with full excitement.
The Branches Grow Program serves elementary students, preparing them for lifelong success through enrichment of their minds, bodies and hearts. Branches' engagement with the students begins after school with tutoring and homework help but continues with enrichment activities including: Summer Shade Camp, Recreational Activities, Social Skill Development, Mentoring and Healthy Meals and Snacks. The Branches Grow program serves over 150 children each year and is among the top 10% performing programs as rated by The Children's Trust. In addition, Branches is proud that 94% of our students maintained or improved their grade point average from the previous school year. Thank you again to Alma for their outstanding support and making sure that Branches' children are ready to learn as they go back to school.
_______________________________________________________________________________
About Branches
For 40 years, Branches (formerly South Florida Urban Ministries) has made a positive impact in the community by delivering on its mission to serve, educate and inspire people through student, family and financial stability services. Branches provides long-term, holistic services for motivated individuals and families. Branches' programs help people grow deeper and climb higher in life by building a foundation through education so they can achieve their goals and fulfill their potential. For additional information about Branches, please call 305.442.8306 or visit http://www.branchesfl.org.
About Alma
Founded in 1994, Alma was named Advertising Age Agency A-List in 2010 and 2012 and won two coveted Silver Cannes Lions in 2013 under the Promotions & Activations and Outdoor categories. Agency President, Luis Miguel Messianu, was named the most influential leader in Hispanic advertising in the last 20 years at The Internationalist's Latin American 100 event in 2012. Alma's clients include McDonald's, State Farm, Clorox, Tobacco Free Florida, Florida Blue, Kingsford, Exxon Mobil, Rosetta Stone, Cricket Wireless and Perdue, among others.
#