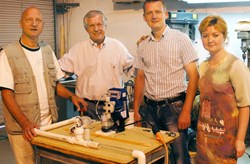 Russia is warmer and drier and scientists are looking at fertigation and Sustainable Agriculture to increase crop production.
Houston, Texas (PRWEB) September 26, 2013
Two Russian scientists from Ryazan State Agrotechological University have just completed a week-long visit to Houston. During the trip, they toured Turf Feeding Systems, and were trained to implement sustainability through fertigation, water efficiency and soil health.
Due to Russia's changing climate, the conditions have become warmer and drier. Scientists are looking for ways to increase crop production. Irrigation has become an important new direction in Russia, and they are seriously looking at the greater efficiency of sustainable agriculture and fertigation.
Turf Feeding Systems recognizes that this is a great opportunity to share technologies and build a strong partnership in Russia promoting sustainability.
Last June, Michael Chaplinsky, the president of Turf Feeding Systems was invited to speak in Russia at Ryazan University and the Institute of Agriculture Research near Volgograd on sustainable agriculture. He spent ten days in Russia speaking and meeting with key scientists in the fields of irrigation, soils and agriculture. Chaplinsky found a great interest among the Russians to improve agriculture and water efficiency through sustainability.
Two scientists Mr. Chaplinsky met in Russia in June 2013, Dr. Mayhayskiy Yury and Dr. Dmitry Vinogradov, had great interest in Turf Feeding Systems' products and sustainability programs. They traveled to Houston during the week of September 16th to learn more about how to implement the savings and benefits of sustainability into irrigation for agriculture in Russia.
Russia is looking for new ideas and ways to improve agriculture and water use. Their climate has been warming and it is now much drier with more irrigation being used each year. Water and soil health are key topics in the agriculture circles of discussion. Dr. Mayhayskiy and Dr. Vinogradov want to find solutions and implement sustainability into agriculture in Russia.
The training and discussion sessions presented by Turf Feeding Systems (TFS) covered all areas of fertigation and irrigation systems, from agriculture to landscape, to sports fields and resorts. TFS already has a number of fertigation systems on golf courses and sports fields in Russia.
Specifically, the Russian's training was spent on fertigation systems showing manufacturing, operation, installation and service of all TFS models and configurations to irrigation systems. Demonstration test loops were used to show the precision of micro-injection rates controlled by irrigation flow rates.
A full day was dedicated on nutrients and fertilizer sources and mixing. It is very important to use and source soluble nutrients and ProBiotic organic products in Russia and other countries. Mixing is very important as well as calculating injection rates.
Additionally, fertigation application sites were shown to the visitors. The scientists were taken to several fertigation sites in the Houston area to see firsthand actual operating systems for landscapes, parks and an agriculture farm. They were especially interested in a new 100 acre pecan nut orchard in Simonton, a farm community west of Houston, which was planted in the spring using drip emitting irrigation. Drip irrigation has become a very important new irrigation direction for Russia.
Michael Chaplinsky has signed a partnership agreement for Turf Feeding Systems with Ryazan State Agrotechological University to work together to teach, promote, and implement sustainable agricultural practices in Russia. This is the second agreement he signed this year, after his first in Volgograd in June with Dr. V. Melikhov for the Russian Academy of Agriculture.
The Russian scientist have invited Mr. Chaplinsky to speak at a national agriculture conference in Russia in February of next year.
This was a great opportunity to continue to build a strategic partnership with Russian Universities, scientists and Turf Feeding Systems, and implement sustainable practices for agriculture and water efficiency around the world.
Michael Chaplinsky is creating a team and is looking for likewise creative individuals to Change the Game and implement sustainable agriculture worldwide together.
His passion never dims and his career now has a more important goal to implement sustainable agriculture around the world, and address the needs for water, soil health and food production.
Bio:
Michael Chaplinsky – President / Founder Turf Feeding Systems
Turf Feeding Systems - Houston Texas – USA - The world leader in packaged fertigation systems (fertilizer injection into irrigation) for golf, sports fields, landscapes, resorts and agriculture.
Mr. Chaplinsky has worked for over 25 years implementing water efficiency and sustainability into all types of irrigated projects around the world. He speaks at many conferences and lectures on sustainable soils, landscapes, golf and agriculture.
Mr. Chaplinsky has worked with the top scientists and engineers on project that include construction, revegitation, bio-remdiation and beach erosion. He brings technologies and practices together to promote plant and soil health, and create the values and benefits of sustainability