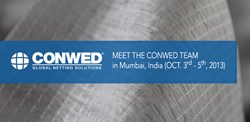 Minneapolis, MN (PRWEB) September 26, 2013
Conwed, the leading plastic netting manufacturer in the world, will be exhibiting at Techtextil India 2013 in Mumbai, India (October 3-5, 2013) and displaying its latest netting innovations. The International Trade Fair for Technical Textiles and Nonwovens gathers more than 100 industry leaders from around the world and Conwed Europe is joining as part of the Belgium pavilion.
"Our European headquarters in Genk, Belgium serve customers in Europe, Asia, Africa and Australia. We see enormous value in attending industry events such as Techtextil India because we can share how our plastic netting can provide superior performance and functionality to different fabrics, nonwovens and textile materials," said Frank Theunissen, Business Development Manager, Conwed.
Conwed netting is used in industrial and consumer products in many different industries. It provides lightweight reinforcement to create superior composites with various substrates. "Whether it is film, paper, foam, nonwoven or any other fabric, our team can customize the precise chemical formulation to create the desire composite. We can develop sophisticated designs such as co-extrusion and bi-component netting that require different performance characteristics within the same netting configuration and even elastomeric netting that can replace spandex and stretch films," said Theunissen.
From automotive, filtration, medical, hygiene and disposable products to agriculture, apparel and building and construction applications, Conwed helps manufacturers, OEMs and converters develop their next product innovations.
About CONWED
Conwed is the leading plastic netting manufacturer in the world. Conwed manufactures extruded, oriented and knitted netting with unique customization capabilities. Headquartered in Minneapolis, Minnesota, Conwed has five manufacturing locations on two continents and a global distribution network.