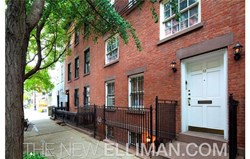 It's most definitely not always about having the highest bid.
West Village, New York City (PRWEB) September 26, 2013
With the New York City real estate market hotter than ever, it's easy for buyers to get discouraged. Prices are pushing all-time highs and inventory is at 12-year lows. To compete, buyers are giving sellers all-cash offers and/or offers above listing prices. But are such tactics always necessary? Are sellers in New York unilaterally beholden to the all-mighty Benjamin, or do buyer "intangibles" sometimes make a difference? The answer to that question might surprise you.
"It's most definitely not always about having highest bid," says Jill Gulllace, a broker with Douglas Elliman in the West Village. "If you're bidding on a place where there are only a few units in the building, having a good disposition and nice manners really seems to matter."
Case in point: 83 Perry Street, Unit #1, a 1,600 square foot condo in need of a complete renovation sold on 9/24/13. Gullace acted as the listing agent on the deal, and the "best" all-cash bid of $2.5 million lost out to a $2.3 million bid with bank financing. "The seller just really preferred the people behind the $2.3 million bid with financing. They were not pushy and they made an effort to work with the seller to show her they'd be good neighbors," Gullace says. The important point here is that 83 Perry Street only has two units. "Bigger buildings don't really give buyers with good people skills an edge," Gullace adds.
Indeed, with over 40% off all deals in Manhattan trading at or above the asking price last quarter, it's easy to see why buyers might get discouraged. But clearly there are deals out there, especially in smaller buildings where being neighborly might matter.