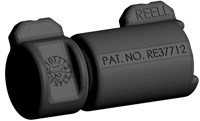 The TI-100 Series provides pivoting and positioning without the visible appearance of a hinge.
Saint Paul, MN (PRWEB) September 30, 2013
Reell Precision Manufacturing, a world leader in small package position control, is proud to introduce the latest addition to its premier line of torque inserts, the TI-100 Single Fin Insert.
Manufactured using Reell's patented ReellTorq® technology, TI-100 Series inserts are designed to be press fit into a variety of materials such as die cast metals, extruded metals, sheet metal and molded plastics, via a keyed cavity. The introduction of the single fin option reduces the cross-sectional area needed to mount the insert, making it applicable for a wider range of positioning applications.
Currently available in two package sizes, the TI-100 Series are ideal for consumer electronics, automotive, medical and dental applications. They have been used in a wide range of position control applications such as monitor positioning, small enclosures, pivoting devices, lighting fixtures and medical arms and carts.
Reell Torque Inserts are cosmetically appealing, providing pivoting and positioning capability without the visible appearance of a hinge, and because they require no fasteners they can be more cost effective and easier to assemble than traditional hinges.
The TI-100 Series Single Fin is available now. Please contact your Reell representative to request a sample or for more information.
Reell Precision Manufacturing provides high-quality innovative solutions to transmit torque, control angular position and protect delicate components from excessive force. Combining the worlds most precisely controlled torque technology with the industry's most experienced engineering team guarantees a perfect product fit for your application. With facilities on three continents, Reell's responsive global customer service and world class manufacturing ensures exceptionally easy ordering and on-time delivery.
Follow Reell on twitter: @reell