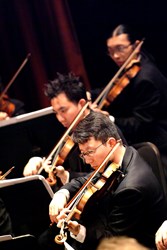 Simply Amazing - San Francisco Classical Voice
San Francisco, CA (PRWEB) September 26, 2013
In response to rising tuition costs, the San Francisco Academy Orchestra, armed with a dynamic faculty of San Francisco Symphony members, has recently chosen 20 applicants among a talent pool from five continents for the inaugural year of a post-graduate program in orchestral studies to begin this autumn.
The purpose of this one-year fellowship is to offer a cost effective and practical education that focuses specifically on the skill set necessary to prepare for a career in orchestral music. Coursework includes weekly lessons, excerpt classes, master classes and mock auditions in addition to the San Francisco Academy Orchestra's long-standing tradition of giving young professionals the opportunity to rehearse and perform alongside seasoned members of the acclaimed San Francisco Symphony. Successful completion of curriculum results in the Academy Orchestra's Artist Diploma in Orchestral Studies.
Incoming violin fellow Evelyn Kwark, who holds arts degrees from Juilliard, Yale, and Manhattan School of Music, commented, "I'm honored to take part in the inaugural year of a program which I'm certain will make history in orchestral pedagogy with its ingredients of faculty, focus, and affordability." Ms. Kwark spent her New York years as a student of New York Philharmonic Concertmaster, Glenn Dicterow.
"I feel that we are in a position to make a huge difference in the lives of many young musicians with an affordable and practical program," said Academy Orchestra Music Director, Andrei Gorbatenko. "Tantamount to that is our subsequent goal of building an endowment that would gradually result in this being a tuition-free education. Imagine a world where tuition costs only went down!"
Classes begin October 7th and the opening concert will be on October 13th with Andrei Gorbatenko leading works by Mozart and Prokofiev. For more information on the endowment and the Academy Orchestra's 2013-2014 season of public concerts, please visit http://www.sfacademyorchestra.org/.