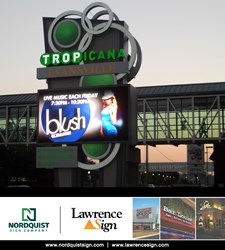 This is the gaming industry, so there is a wow factor that must be maintained or established.
St. Paul, MN (PRWEB) September 26, 2013
Nordquist Sign recently executed the complete rebrand of the Tropicana Hotel and Casino gaming and entertainment complex in Evansville, Indiana. According to Stacy McNeill, Director of Marketing for Tropicana Entertainment, "The rebrand made sense for our business revenues and for overall awareness in markets outside Las Vegas."
McNeill went on to say, "Nordquist Sign was selected through an internal process based on their proposed signage design package. They listened to our desires and understood our vision for the project. Another element of our decision to partner with Nordquist was their reputation for delivering quality custom signage and their competitive pricing."
"This was a unique project in that it covered the casino, hotel, multiple dining areas, nightlife venues, entertainment theaters and group meeting spaces," said Chuck Hesse, Vice President of Sales and gaming industry veteran for Nordquist Sign in St. Paul, Minnesota. "We were the right match for the project bringing together best-in-class gaming designers, and Nordquist Sign's industry leading production capabilities, wayfinding sign expertise and upscale signage experience."
Nordquist Sign Art Director Steve Charem designed the overall creative concept and graphics for multiple buildings of the hotel and casino complex along with a number of dynamic spaces within the facility. "Steve essentially started with a blank page. Brand standards came from Tropicana Entertainment and the final design aesthetic was the result of our interpretation of the client's vision for the property. The collaborative efforts of our partnership with Tropicana Entertainment made the process effective based on client communication and Nordquist Sign's willingness to exceed expectations," said Todd Wandersee, Vice President of Engineering and Design. "This is the gaming industry, so there is a wow factor that must be maintained or established."
"After initial design conceptualization," Wandersee said, "We then discussed value engineering. How can we maintain the look and feel the customer seeks and deliver the best value for them?" Nordquist Sign maintains a single focus: to successfully deliver custom signage projects within a given budget while meeting the client's schedule requirements.
Despite unexpected and dire soil conditions which required dramatic changes to the sign foundations, Nordquist Sign completed the Tropicana rebranding project on time, creating a landmark branded hotel and gaming facility for Downtown Evansville. The Tropicana campus maintains a new unified identity which includes a large scale marquee sign with full color dynamic digital video displays, unique dimensional concession signage, branded campus wayfinding and numerous architectural signs.
About Nordquist Sign & Lawrence Sign
Nordquist Sign has been fabricating and installing custom signage, architectural elements and wayfinding signage for over 100 years. Nordquist's customer base and scope of work includes custom signage and environmental graphics for hospitals, sports facilities, themed entertainment, corporate/financial and mass transit. Nordquist Sign also maintains a gaming division with offices in Las Vegas, NV and St. Paul, MN to serve casino gaming markets throughout the United States.
In early 2012, Lawrence Sign, also in business since the early 1900's, acquired Nordquist to combine the unique resources and capabilities of the two companies. Together, Nordquist Sign and Lawrence Sign offer their clients over 175 years of experience in sign manufacturing and installation for all phases of the signage industry.
For more information:
(651) 488-6711 • (800) 998-8901 • http://www.nordquistsign.com • http://www.lawrencesign.com
info(at)nordquistsign(dot)com • info(at)lawrencesign(dot)com