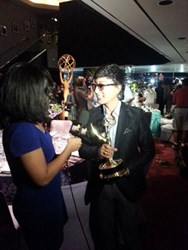 We are very excited to listen and share the speakers' factors of success and their personal stories.
Garden Grove, CA (PRWEB) September 26, 2013
Kevin Lee, a six-year producer of floral designs for television productions as respected as the Emmy Awards, Grammy Awards, and the Oscars, will give a speech, titled "Priceless Events, Beautiful Memories", at the 2013 Asian Business Expo. To take place October 8, 2013, the Expo will be in Orange County, CA and feature speaker Michelle Park Steel and attendance by several small and major local organizations.
In his speech, Lee will share industry insights and success factors which led to LA Premier being one of the top Floral & Events Production companies in Hollywood. Kevin Lee is the Executive Producer of Events & Weddings at LA Premier, which has catered to many high-profile clients in Hollywood and Beverly Hills. In addition to producing floral designs for TV shows, he has also completed the weddings for clients such as Brad Pitt and Kendra Wilkinson, and served other extravagant parties in the entertainment industry.
Kevin Lee is also a television personality. He has participated in reality shows such as "The Real Housewives of Beverly Hills" and "The Brides of Beverly Hills", and recently provided the voice for "Party Smurf" in "The Smurfs 2" by Sony Picture Animation. Lee has taken on the personal mantra of "Work Hard to Create Perfection without Compromise", motivating him to create what he calls, "Priceless Events and Beautiful Memories" for all clients.
Now calling his efforts a success, Kevin Lee moved to Los Angeles from Korea as a young man. The transition was not easy and he faced challenges such as not having English skills, an American education, or an understanding of the American business world. With determination, Kevin bravely jumped into the hard work with an instinct of survival to succeed. He worked at a gas station and 7/11 to learn customer service and communication. Without help or a road map, Kevin worked toward the glamorous life he saw on TV.
JJ Kim, President of KACCOC, says, "We are very excited to listen and share the speakers' factors of success and their personal stories."
The second speaker at the Expo will be Michelle Park Steel, Vice Chair of the California Board of Equalization. Representing over 8 million residents in the Third Board of Equalization District, Steel believes California's budget should be balanced by eliminating wasteful programs and streamlining bureaucracies. She has also pledged to oppose every new tax and tax increase proposed before the Board.
Daniel Kim, a successful Amazon and eBay seller for 14 years, will also have a seminar about "Successful Tips for Amazon and eBay Sellers'. He is a director of PhiConnect.com which provides Amazon and eBay management web services for many years.
Both small and major local organizations are expected to attend the 2013 Asian Business Expo. In 2012, exhibitors included Southern California Edison, Southern California Gas Company, Wal-mart, East West Bank, Unity Bank, Wells Fargo Bank, New York Life, Community Lending Group, Prime Healthcare Services, and other large companies. Exhibitors also included BankCard Services, I-World US, Virus Zero USA, among many other organizations based in the local area.
For more information about the 2013 Asian Business Expo and details on becoming an exhibitor, go to http://www.TheAsianBusinessExpo.com or email info(at)kaccoc(dot)com.