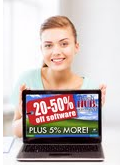 We at TeachHUB are passionate about providing the best products and services for our audience, K-12 teachers, at the best value and price possible…
Frankfort, IL (PRWEB) September 28, 2013
Savvy educators and school administrators have long known that the use of technology in the classroom grows exponentially year over year, oftentimes requiring them to update existing or purchase additional software to help them stay competitive and relevant. Applicable and cutting-edge software is yet another tool in a teacher's arsenal that allows them to pass on valuable knowledge to their students.
Meanwhile, with increasing needs and dwindling budgets, it's important that educators have an advocate that can help them acquire those valuable technological resources they need at the prices they can afford. TeachHUB is that educational advocate.
To address the dramatically increasing use of technology in the classroom, and to demonstrate its continued dedication to educating teachers on how to fluently use that advanced technology, TeachHUB.com has partnered with OEM software reseller Royal Discount to offer additional discounted pricing off of the already low prices available publicly.
"We at TeachHUB are passionate about providing the best products and services for our audience, K-12 teachers, at the best value and price possible," says Nathan Wiens, Executive Vice President of the K-12 Teachers Alliance, TeachHUB's parent company. "We're careful about what companies, products and services we bring before our members: Our vendors' commitment to quality of product and service must match our own, and with Royal Discount, I'm really pleased with the partner and deal we can share. I know that these discounts will better equip teachers, and ultimately those benefitting the most will be their students."
Royal Discount works directly with software and hardware manufacturers to sell overstock software titles at discounted prices, often ranging from 20-50 percent off normal retail pricing. Participating manufacturers include familiar software entities like Adobe, Intuit, McAfee, Microsoft, Symantec and many more companies, all selling products that can help teachers use technology in the classroom.
TeachHUB customers are offered an additional 5 percent off their purchase simply by entering coupon code "DEAL4U" at checkout.
TeachHUB is committed to improving the quality of education by making available the most current, complete and affordable resources for all K-12 Educators. Built by teachers, for teachers, TeachHUB offers free lesson plans, the latest in education news, professional development and real teacher blogs, plus the tools and applications modern educators need to maintain a level of excellence in their classrooms.
Since its inception, TeachHUB has also found success in helping educators formulate their professional development plans. TeachHUB offers up guidance for teachers seeking to further their educations, and TeachHUB also provides turnkey and original in-service programs for school administrators looking to enrich their educational talent pool.