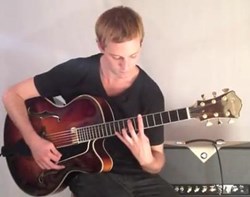 (PRWEB) September 26, 2013
This type of progression, one of the most common in all of music, is called a "two-five-one" because it uses the second, fifth and first chords in a key. For example, in the key of C, the progression is Dminor7-G7-Cmajor7. Of course, each chord can be embellished, as Jon demonstrates in this jazz guitar lesson.
Using jazz guitar chords, he begins the lesson with the II chord in the key of A flat, a Bbminor11 chord, which can be quite a stretch. He follows that with the V chord, an Eb13b9, and concludes with an AbMajor13 chord. Jon plays the notes of each chord individually for easier learning, then shows how to move the chords around the neck for different keys. There is a link to printable Howard Roberts tabs written both in music notation and in tablature.
Howard Roberts was a legendary jazz and studio session guitarist based in Los Angeles from about 1950 through the early 1980s. He recorded more than a dozen albums under his own name, the most well-known of which are probably Color Him Funky, H.R. is a Dirty Guitar Player and The Real Howard Roberts. As a sideman and session musician, he played on countless albums and hit songs by other artists as well as the classic guitar-based television themes for The Twilight Zone, The Munsters, Bonanza, Batman, Peter Gunn, Wild, Wild, West, Mission Impossible and many others. A signature Howard Roberts guitar was produced by Epiphone and later by Gibson. In the late 1960s, Roberts began to focus on guitar education, giving seminars and writing instructional books and a column for Guitar Player magazine. He was a founder of the Guitar Institute of Technology, now known as Musicians Institute.
Enjoy and learn more jazz lessons from Jon MacLennan and all the teachers at Guitarcontrol.com in the free video lessons at http://www.youtube.com/guitarcontrol.
GuitarControl.com, a leader in video music education, is the brainchild of Philadelphia guitarist Claude Johnson. Since 2004, it has offered online and DVD guitar lessons taught by experts in styles ranging from rock and metal to jazz and country to classical and fingerstyle acoustic, as well as courses for singers, drums, bass and keyboard, and music software, song collections and jam tracks.