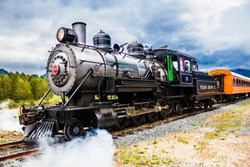 "Washington State has a world class collection of vintners that produce incredible wine. We are so proud to have a chance to share Washington wine with our passengers that we hope to expand this event next year"
Elbe, Washington (PRWEB) September 26, 2013
The Mt. Rainier Scenic Railroad Wine Express Train is set to take place on Saturday October 12th. The historic steam train will be host to a 21 or older crowd during this special event. Live music, souvenir wine glass, catered meal and wine tasting are included in the ticket price. The train departs from the Elbe depot and travels to Mineral, WA. Tickets can be purchased at the Mt. Rainier Scenic Railroad website.
"Washington State has a world class collection of vintners that produce incredible wine. We are so proud to have a chance to share Washington wines with our passengers that we hope to expand this event next year," says Meilee Anderson, Director of Sales and Marketing for the Mt. Rainier Scenic Railroad.
This special event is taking place on Saturday October 12, 2013 for passengers on the 3:30pm train as they ride through the pristine foothills of Mount Rainier on a vintage locomotive. Guests will enjoy a catered meal, live music, wine tasting and have time to tour the world's largest collection of steam logging locomotives before returning to Elbe, WA. For more information or to purchase tickets to this unique event visit: mrsr.com or call 1-888-STEAM-11.
The Mt. Rainier Scenic Railroad (MRSR) is a steam-powered heritage railroad operating in Washington State between the towns of Elbe and Mineral. MRSR is a 501(c)(3) non-profit organization and the longest continuously operating steam train railroad in the Pacific Northwest. Approximately 30,000 passengers travel the forest and foothills of Mt. Rainier annually on these vintage restored trains. The majority of the excursions are operated and supported by dedicated volunteers. A portion of the proceeds from ticket sales support continued preservation and restoration efforts. The Mt. Rainier Scenic Railroad offers scheduled departures weekly June thru October and again during the month of December.