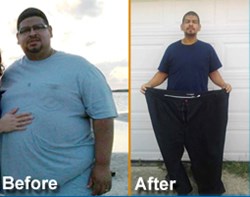 I always recommend the surgery. I tell people don't even think twice."
San Antonio, Texas (PRWEB) September 26, 2013
Dr. Nilesh A. Patel of Texas Bariatric Specialists (TBS) announced today that the phenomenal gastric bypass surgery performed on Margarito Garcia allowed him to discontinue his diabetes medication after three months. Today, he is completely free of diabetes.
At 29 years old, Margarito Garcia felt he was way too skinny. At 6'0" and 200 lbs, people could see his ribs sticking out. "I was skinny," Margarito recalled, "I wanted to gain muscle and be husky." He began taking Kreatin and muscle powder but they never worked the way he wanted them to, so he stopped taking them. "As soon as I quit, I started gaining and gaining weight, and I was getting to the weight I wanted, but I was chunky." When he stopped the muscle builders, they seemed to completely stop Margarito's high metabolism and he quickly shot up to the weight he wanted to be at, 280 lbs. Then he realized he was unable to stop gaining weight.
As his weight continued to increase, Margarito looked to one of his friends for help on turning the extra bulk into muscle. His friend was a personal trainer who ate healthy and exercised to stay in top shape. Margarito started eating what he ate, but his body reacted differently, and it never panned out the way he expected. Soon, he was wearing a size 6XL in shirts and pants in size 65. "Diet, exercise, nothing worked for me at that point," he said.
When Margarito hit 380 lbs, he found out he was borderline diabetic. As he continued gaining weight, it turned into full-blown diabetes and he found out he developed high blood pressure and started having bad pain in his knees. Even with the pain in his knees, that didn't stop Margarito from continuing his work at Circuit City doing physical work like moving washers and dryers, or carrying large TVs up stairs to customer's homes. "When I was 380 lbs, I was carrying a TV up three flights of stairs and my right knee just gave out, then I hit 525 lbs and my left knee gave out unloading a truck." His knee and leg turned purple from the weight and sometimes his blood vessels would burst in his legs from the weight. "It was terrible!"
At 525 lbs, Margarito went through depression. His wife began telling him that they weren't able to have kids because of his weight. "I didn't even feel comfortable being without clothes in front of my wife," he remembered. Between the depression and discomfort, he went an entire year without being intimate with his wife. He knew it was time to find a different way, other than diet and exercise, to finally help him lose his weight and change his life.
"I remember the day clearly that I finally went to see a bariatric surgeon to help with my weight loss," Margarito said. He had showed up two hours early in excitement, only to have the surgeon talk with him less than ten minutes and tell him he was too big and he wouldn't take on his case. "My BMI was 65, and this surgeon said he wouldn't be able to help me." Margarito left that day feeling the worst he had in a long time. "I was ready to give up," but he decided to give it one more shot and went to one of Dr. Patel's seminars. "When I saw Dr. Patel, he said 'yes, you'd be a great candidate,' and he took on my case." Margarito was now on track for bariatric surgery.
Margarito flew through the clinical requirements Dr. Patel required before his surgery, and before he knew it, he had his gastric bypass procedure and started shedding the pounds and feeling healthier. Just three months after his procedure his diabetes had vanished and he completely stopped his medications. Soon after, his high blood pressure disappeared and he was able to move without pain in either of his injured knees. "I've lost 265 lbs in a year. That's about 2 people off of me!" Margarito said. He was now able to walk through restaurants without turning sideways through doorways, could fit into the tiny chairs at the Dallas Cowboys stadium, and rode his first carnival ride in 10 years. "At the BucDays Carnival in Corpus Christi, I rode a ton of rides. I'm 42 years old and I felt like a kid again," he recalled.
He also made sure to continue working out after his surgery. He had attended Zumba classes even when he was 525 lbs, but he was sure to hide in the back of the class. "I hid in the back because I didn't want to block anyone's view of the instructor," he recalled, "now, I go to the very front of the class." Margarito's workouts consist of completing 3 miles on a track after work on Monday through Friday, going to the gym to lift weights, doing more cardio on the elliptical and bicycle, leg presses, and completing his Zumba class every Tuesday.
"I send people to Dr. Patel and his seminars all the time," Margarito said. When he goes to his post-operative appointments, he is sure to tell the larger people in the lobby how much weight he lost and how quickly he achieved it and says patients are shocked by his stories and success. "I always recommend the surgery. I tell people don't even think twice."
About Texas Bariatric Specialists
Founded by Dr. Nilesh A. Patel, MD, a nationally recognized and fellowship-trained bariatric surgeon, Texas Bariatric Specialists (TBS) is a holistic weight loss practice focused on delivering long-term weight loss solutions for patients. Dr. Patel specializes in surgical weight loss procedures including Lap Band, Gastric Bypass, Gastric Sleeve, Gastric Band, and the revision of failed weight loss surgery, which have resulted in over 2,500 surgeries exceeding the national average of successful weight loss management. With a commitment to surgical expertise, compassionate care and exemplary preoperative and postsurgical consultative services, Dr. Patel and his staff at Texas Bariatric Specialists ensure successful weight loss management for their patients through long-term relationships to support good health. Offices are located across major cities throughout Texas including San Antonio, Austin, Corpus Christi, New Braunfels, Seguin, Boerne, Kileen, Temple, Del Rio and Laredo. For more information, or to book a free informational seminar, please visit http://www.texasbariatricspecialists.com.