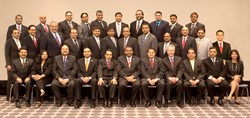 Atlanta, GA (PRWEB) September 27, 2013
The Asian American Hotel Owners Association (AAHOA) will host the Southeast Texas Regional Conference to inform and educate members, as well as the public, on issues such as Obamacare and forecasts for the hospitality industry.
AAHOA represents more than 11,000 members who together own more than 20,000 hotels with a market value of almost $130 billion. Over 600 members are located in this region. The Conference will be hosted at the Stafford Centre Performing Arts & Convention Center, 10501 Cash Road in Stafford, Texas.
Also in attendance will be our esteemed Officers:

AAHOA Chairman Mehul Patel, Principal with NewcrestImage in Dallas
AAHOA Vice Chairman Pratik Patel, President of JMP Hospitality in San Antonio
AAHOA Treasurer Jimmy Patel, President of JAM Hospitality in Statesville, NC
AAHOA Secretary Bruce Patel, Owner/Operator of SABDAP, LLC in Irving, TX