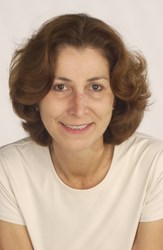 Austin, TX (PRWEB) September 25, 2013
Dr. Corinne Scalzitti is one of the nation's leading dentists to provide an improved method of gum disease treatment to patients. The Laser Assisted New Attachment Procedure (LANAP) is a laser gum surgery that takes advantage of today's laser technology to deliver optimal oral health for patients by effectively eliminating gum disease.
Scalpel gum surgeries involve the dentist literally cutting tissue out of patients' mouths. In the process of removing infected gum, a portion of healthy gum is unavoidably lost as well. The loss of any gum tissue can be serious, as the gums are the means by which teeth are anchored and held in place. If there is not enough gum tissue to support the teeth, they are at risk of being lost. The PerioLase MVP-7 laser used in a laser gum surgery works only on diseased tissue. This allows patients to retain the maximum amount of gum tissue possible. Additionally, while treating gum disease, the LANAP gum disease treatment actually stimulates the development of new gum tissue. Patients can enjoy a reduced chance of tooth loss, gum grafts and other oral health problems that are commonly associated with gum disease.
The LANAP laser is undetectable by bone, water, root or gum. It identifies and essentially vaporizes bacteria in the affected gums. After this step, Dr. Scalzitti is able to remove any tartar or calculus growth and then seal the gum area with the laser to encourage healing and to prevent new bacteria from growing in the same region. Patients need not experience any cutting, stitching and typically feel only a mild warming sensation.
Dr. Scalzitti and her staff take pride in giving patients a new and easier way to treat their gum disease. If you are interested in learning more about the LANAP gum disease treatment, visit Dr. Scalzitti's website or contact her office today.
About The Doctor
Dr. Corinne Scalzitti is a general dentist offering personalized dental care for patients in Austin, TX. Dr. Scalzitti received her Doctor of Dental Medicine degree from University of Pittsburgh School of Dental Medicine. She went on to earn her status as Master of the Academy of General Dentistry, a degree that is only achieved by one person of all practicing dentists in the U.S. Dr. Scalzitti is also part of one percent of dental professionals providing the only FDA cleared laser procedure for gum disease and periodontal treatment. To learn more about Dr. Scalzitti and her dental services visit her website at http://www.beecavecosmeticdentistry.com and call (512) 351-3443.