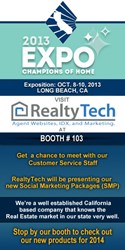 We are a California company and we think that is a powerful advantage for our clients.
Thousand Oaks, California (PRWEB) September 30, 2013
RealtyTech Inc. will be debuting their new exclusive Social Marketing Packages (SMP) featuring their proprietary Facebook marketing programs.
The CAR Expo will take place October 8-10 at the Long Beach Convention Center in Long Beach, CA. RealtyTech will be showcasing its new for 2014 products and services at booth number 103.
The CAR Expo is the premier trade show for California's huge real estate industry. The CAR Expo features educational, networking and professional development opportunities designed specifically for California's Realtors®. This year's event offers more than 20 seminars based on real ideas and solutions to increase profitability. The CAR Expo will also be hosting New Agent Bootcamp at the expo on Oct. 8-9 that will focus on six topics designed to help new Realtors® succeed.
RealtyTech is a California based company that specializes in online marketing services for real estate professionals including agent websites, IDX and Internet/Social marketing. The booth will be staffed by actual RealtyTech Customer Service Representatives who manage phone and online support. Appointments to meet with RealtyTech at the Expo can be made online at http://www.expo.car.org/appointments.html.
"We are excited to meet our clients and future clients in person to present our new Social Marketing Programs," said RealtyTech President Richard Uzelac.
Senior Account executive Lance Grove added, "It will be refreshing to let them know that we are some of the actual people assisting them when they call or email. We're a California company and we think that is a powerful advantage for our Clients as we know the Real Estate market in our own state very well."
Admission to the CAR Expo is free for CAR members if they register online at http://www.expo.car.org/.
About RealtyTech:
RealtyTech is a Thousand Oaks, CA based company that gives real estate professionals the tools necessary to stand out and succeed in today's online marketplace combined with solution minded live California-based customer service. We have over 15 years of online real estate marketing expertise and have spent over 15 years of that experience offering agent websites, home searches and Internet marketing. For more information please call (877) 832-4428 or visit http://www.RealtyTech.com.