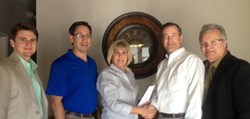 Being able to target the best, most ready to purchase potential customers is of HUGE value to us and the advertisers whom we represent
Burleson, TX (PRWEB) September 27, 2013
Advertising to potential customers based on their geography has long been a reality for businesses. With new 'Enhanced Mobile Targeting Ads', advertisers have the ability to market their business to customers based on their behaviors.
Welcome to hyper-local mobile marketing, here is how it works:
People allow their smartphones and mobile apps to use location services. When location services are turned on and those apps are running, information is being gathered about the smartphone user's location. Additionally, information is gathered from the user's search history using mobile search apps like YP mobile, CitySearch, and others. As data is collected, a picture is being pieced together about what businesses smartphone users have visited physically and what businesses they have searched for on the mobile web. Advertisers can then in turn serve up mobile display advertisements with coupons, promotions or information about their own business to smartphone users who are already engaging in shopping behaviors that are related to the products and services that they sell.
Imagine owning a Pizza restaurant in Dallas. Using enhanced mobile targeted ads, mobile display banners could be sent to the mobile phone apps of consumers in Dallas who have location services turned on, and have recently visited in person, or searched for pizza restaurants in Dallas. This means only advertising to people who like pizza based on their recent behaviors. Using this technology for marketing and advertising will lead to better than average click through rates and better conversion rates since impressions are not wasted on people who may not like pizza.
The TMG Digital Marketing Solutions team recently had a visit from YP, formerly AT&T, National Sales Executives regarding this very topic. "We are excited about the new capabilities that we, in partnership with YP, have to better market our client's businesses to their target consumers," says Kelly Turner, CEO of TMG. "It is our goal to provide the most effective direct lead generation services to our clients. Being able to target the best, most ready to purchase potential customers is of HUGE value to us and the advertisers whom we represent in achieving this goal," added Turner.