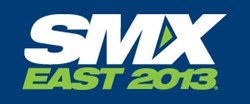 Companies need to know the pitfalls to avoid with authorship and how Google is inferring authorship today.
Charlottesville, VA (PRWEB) September 26, 2013
Search engine marketing agency Search Mojo's President/CEO, Janet Driscoll Miller, and Vice President of Accounts, Tad Miller, will be speaking at SMX East, taking place October 1-3 in New York City. The conference will cover search engine optimization (SEO), paid search advertising and social media marketing tactics to boost conversions, sales and overall web site traffic. The annual conference, hosted by Search Engine Land and Third Door Media, will have over 50 sessions and keynotes from over 100 internet marketing experts.
Janet Driscoll Miller will be speaking on Wednesday, October 2 on a panel titled, "Authorship: Step-By-Step & Troubleshooting." She will discuss how authorship may soon become an extremely important ranking factor and how Google is enabling authorship rich snippets today. Also on the panel are Pierre Far, Webmaster Trends Analyst from Google; John Shehata, Executive Director of Search and Social Media at ABC News; and John Carcutt, Director of SEO and Social Media at Advance Digital. Elisabeth Osmeloski, Third Door Media's Director of Audience Development will be moderating the panel.
"Studies have shown that authorship rich snippets can dramatically increase click through rate from Google's organic search results, so implementation needs to be an important goal to increase web traffic and visibility for valuable content," said Driscoll Miller. "Companies need to know the pitfalls to avoid with authorship and how Google is inferring authorship today. Our case study also infers that Google may be experimenting with using authorship as an authority signal for ranking websites even today."
On October 3, Tad Miller will speak on the panel "Maximizing Enterprise PPC," focusing on using search data to drive marketing strategy and resolve internal struggles between large enterprise business divisions and the marketing agencies supporting them. Joining him on the panel is Matthew Mierzejewski, Vice President of PPC at Rimm-Kaufman Group and Marta Turek, Group Manager of Performance Media at Mediative. Andrew Goodman, President of Page Zero Media will be moderating.
"Janet and I are only the second husband and wife team to ever speak at SMX," Miller commented. "We both consider the SMX Conference to be one of the most valuable search marketing conferences in the world and are very honored to have both been selected to speak at it this year."
To learn more about SMX East, go to http://searchmarketingexpo.com/east.
About Search Mojo
Search Mojo specializes in search engine marketing, social media advertising, content marketing and analytics services. Founded in 2005, Search Mojo uses the latest information and techniques to help companies improve their conversions and lead generation through search and social tactics. Learn more about Search Mojo at http://www.search-mojo.com or read our blog, Search Marketing Sage, at blog.search-mojo.com.