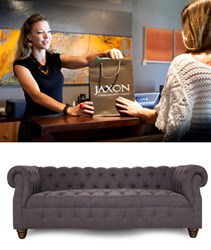 Los Angeles, CA (PRWEB) September 26, 2013
Jaxon Home, the Los Angeles based lifestyle and home furnishings brand, announces the launch of their online e-commerce furniture showroom, JaxonHome.com today. Jaxon Home has established itself as a premier resource for modern, traditional and transitional upholstered furniture made in Downtown Los Angeles since 2006, and is moving into national distribution and sales with the JaxonHome.com launch.
Owner and Creative Director Victoria Richter has designed an extensive line of upholstered pieces and case goods, manufactured by Coda Industries, the L.A. based factory owned by Victoria's husband, Braden Richter. All items can be customized and are available in over 500 fabrics and 100 leathers. By manufacturing in Los Angeles, custom pieces are generally delivered and installed within 3-5 weeks. As a comprehensive lifestyle resource, Jaxon also sells a curated collection of rugs, lighting, accessories, case goods and select vintage finds all handpicked by Victoria.
"Jaxon Home is all about Real Life," says Victoria, mother to her own brood of young children. "Life happens. Spills happen. That's why we are backing our products with the best warranty in the industry – two years of professional stain removal and replacement for damage. Why wait till the kids are grown before you get "good" furniture?" All of Jaxon Home's products are backed by a 2-year warranty from Uniters North America, and include white-glove delivery and installation.
Jaxon's commitment to building durable, comfortable yet beautiful furniture is reflected in their commitment to environmental sustainability. Pieces in the "Benchmark" collection are filled with Trillium, a recycled plastic material that has a soft feel similar to 50/50 down fill, yet is hypoallergenic, and many of the case goods are built from reclaimed Douglas fir.
By building their signature collections in Los Angeles, Jaxon not only cuts lead time and allows for a far greater amount of customization than most lines, but also allows the company to use top quality materials, unlike mass retailers who often use less expensive woods and fabrics.
"We are a modern-day mom and pop shop," says Victoria, "but with a much broader reach. We own the factory, so we can deliver goods that meet our exacting standards, while still coming in at a reasonable price point often lower than the big guys that manufacture overseas."
With designs ranging from transitional to contemporary, Jaxon Home infuses every piece with Victoria's sexy and stylish design sense. Having spent years in the fashion industry as a model, Victoria developed a passion for textile and design, which eventually led her to the Fashion Institute of Design and Merchandising (F.I.D.M.). She has a long track record working with successful furniture brands, including the launch of Williams Sonoma Home upholstery collection. The success of Jaxon Home, the 20,000 sq ft Helm's Bakery area store opened in 2006, has led to the next step of creating JaxonHome.com, bringing her livable yet elegant products to a wider audience.