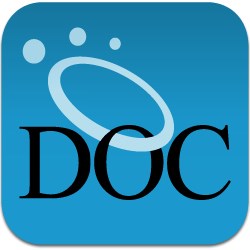 "With the new HIPAA Omnibus rule – the question for healthcare organizations is – 'who is really responsible for securing the exchange of PHI?' The answer is - 'everyone.'" ~ Dr. Jose Barreau, CEO of Doc Halo
Cincinnati, Ohio (PRWEB) September 27, 2013
Doc Halo, the secure healthcare texting system that allows physicians and medical professionals to communicate with real-time messaging within a HIPAA-compliant communications platform, reports that, with the enforcement of new HIPAA privacy requirements, the company's management has observed a serious intent-to-comply among healthcare organizations, hospitals, and physician practices.
That desire to fulfill all new patient personal health information (PHI) requirements is however equally met with volumes of unanswered questions and a concern about an increased EHR compliance workload. Healthcare professionals and organizations are faced with priority patient privacy security concerns, including the pressing need to find solutions for secure texting and secure messaging.
Co-founder and CEO of Doc Halo, Jose Barreau, MD explained that his team has been working closely over past months with Doc Halo clients to help these healthcare organizations and medical clinicians understand the new government regulations that became enforceable as of Monday, September 23.
Barreau explained that "Omnibus is modifying the HITECH act by stating that Business Associates of covered entities are directly liable for compliance with certain HIPAA privacy and security rules' requirements."
"These certain rules require that call centers and other answering services should be HIPAA compliant with 'all' of their electronic communications. These communications include texting and emailing of personal health information (PHI)."
Dr. Barreau explained, "The effect of the Omnibus ruling is far-reaching to any organization that relies on their network of communication from a call center or answering service. The question is - 'who is really responsible for securing the call and the exchange of PHI?' The answer is - with the new HIPAA Omnibus rule – 'everyone.'"
Doc Halo's Chief Operating Officer, Cliff MClintick gave an indication of just one area of additional compliance challenges for healthcare professionals. "Recent studies have found that up to 90% of physicians use a smart phone and up to 73% use them for work."
McClintick continued, "The HIPAA Omnibus rule has become more stringent and objective assessing the risk factors for breaches, including whether the recipient of PHI took appropriate mitigating action."
"The result is that call centers across the United States are scrambling to secure their communications," said McClintick.
Dr. Barreau addressed the push for a healthcare organizations' totally HIPAA–compliant communication systems, especially in light of the Omnibus ruling. "We know that the Centers for Medicare and Medicaid Services (CMS), The Joint Commission (TJC), and state compliance agencies are taking a hard look at texting and emailing to make sure PHI is secure. We know too that physicians and medical professionals in our industry are indeed texting and emailing. Our colleagues just need to know that they have the tools to ensure that the texting and emailing of PHI is secure and private."
Dr. Barreau explained that Doc Halo is taking that extra step for healthcare organizations, physicians, and call centers to make sure that all of their communication has a closed loop and is 100% HIPAA compliant. "We've been thanked over and over again by healthcare organizations who have remarked that they can now rest easy knowing that their real-time messaging activities are encrypted, secure and compliant – and that someone has their best interest in mind."
For more information on the Doc Halo secure texting app and secure messaging solution, visit http://www.dochalo.com or call 1.855.362.4256.
About Doc Halo
Doc Halo is the professional standard for real-time HIPAA secure texting for physicians, staff and healthcare organizations. The Doc Halo secure messaging system is designed to streamline HIPAA compliant physician sharing of critical patient information within a secure environment. The Doc Halo secure messaging system is trusted by individual physicians, by their staffs, and by comprehensive healthcare networks as the solution for real-time compliant communication. Because of the intuitive operational structure of the Doc Halo system, physicians and healthcare organizations see efficiencies with their critical communications within minutes of registration.