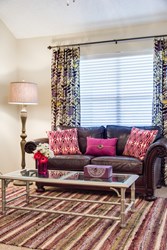 Helping families escape poverty and homelessness through design.
Los Angeles, CA (PRWEB) September 30, 2013
Lamps Plus, the nation's largest specialty lighting retailer, announces a partnership with Dwell with Dignity, a Dallas-based non-profit uniting interior designers with volunteers and corporate donors to help families struggling with homelessness and poverty. The homes are designed to include everything a family might need, from living essentials like food to furnishings and lighting. As a sponsor, Lamps Plus will provide lamps, fixtures and other home furnishings to this visionary homeless assistance program.
"This is a truly synergistic partnership, uniting Lamps Plus' broad selection of lighting and home furnishings with Dwell with Dignity's commitment to goodwill and good design as they support transitional housing in the Dallas area," explains Angela Hsu, Vice President of Internet Business and Marketing at Lamps Plus. "We're proud to support their mission of helping families thrive in a new environment they can call home."
Dwell with Dignity operates on the belief that a change in one's surroundings can have a positive impact on other areas of their lives, inspiring them to maintain a standard of living they can be proud of and thrive in. Lisa Robison, Founder and President of Dwell with Dignity, explains how the partnership with Lamps Plus contributes to this belief: "Lighting is such an important element of design, lending warmth and comfort to our homes. Lamps Plus's generous gift allows us to provide families in need not only a beautiful solution to their lighting needs, but also a quality one. We are thrilled and thankful for our partnership with Lamps Plus!"
An example of the type of project that will be part of the Lamps Plus Dwell with Dignity partnership, is the lighting that was recently donated to a Dallas-area mother and her 20-year-old daughter. With an inspiring new home interior alongside a program of life skills training, budget mentoring, and job search and employment coaching, Dwell with Dignity aims to put the family back on the road to self-sufficiency. This represents the first of what the entire Lamps Plus community hopes will be many future contributions to this growing homeless assistance program. Explains Hsu, "We're looking forward to watching Dwell with Dignity grow and take their concept to the national level."
The apartments and community spaces that Dwell with Dignity designs are brought to life through a combination of dedicated volunteers and donors. Past designers include Nate Berkus and groups such as the American Society of Interior Designers (ASID) and Interior Design Society (IDS), as well as the charity's own in-house design team of Lisa Robison and Kim Turner. With the support of industry partners like Lamps Plus, Dwell with Dignity is expanding their mission of changing lives through design both within Dallas, Texas, and in other design-hub cities in the U.S.
About Dwell with Dignity
Dwell with Dignity is a non-profit group of Interior Designers and volunteers dedicated to creating soothing, inspiring homes for families struggling with homelessness and poverty. They provide and install home interiors for families that include furnishings and art, bedding and kitchen supplies, and food in the pantry. Their mission is to help families escape poverty and homelessness through design, one household at a time. Visit DwellWithDignity.org to learn more.
About Lamps Plus
For more than 30 years, Lamps Plus has been synonymous with excellence in the retail lighting industry. Established in 1976, Lamps Plus is the nation's largest specialty lighting store, with more than 40 superstores throughout the western United States. In 2013, LampsPlus.com was named a Top 10 Housewares/Home Furnishings e-tailer and a "Hot 100" world's best retail website by Internet Retailer Magazine. Together with its retail locations, the company serves customers nationwide with the largest selection of functional and decorative lighting fixtures, accessories, furniture and home decor. This selection includes hundreds of products, ranging from traditional chandeliers to the latest in home decor, available exclusively from Lamps Plus. The company also holds several patents for innovative lighting. Services offered include in-home lighting consultations, in-store workshops and installation from expert, licensed electricians. American Lighting Association certified designers are available to offer product recommendations and advice in all our stores, by phone or online at LampsPlus.com. The Lamps Plus family of websites also includes 55 Downing Street, Lighting Luxury Style, Builders Discount Lighting, and Lamps Plus Open Box. Visit the official Lamps Plus website: LampsPlus.com.