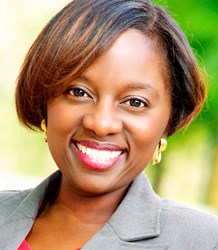 I look forward to helping the PITL family learn how to pursue their God-given destiny with faith and conviction.
Atlanta, GA (PRWEB) September 26, 2013
Angela Ray will be delivering a keynote presentation at the Poetry in the Light 10th Anniversary Celebration on October 25-27, 2013 in Myrtle Beach, South Carolina at the Island Vista Beach Resort. Ray is a renowned motivational speaker and graduate of the University of North Carolina at Chapel Hill.
Ray has shared a long history with Poetry in the Light, PITL. Several years ago, she introduced the co-founders, Duane Graham Foster and Troy Bunch to each other after a poetry event. Since its inception she has performed with the ministry when her schedule permitted, participating in the live recording of the organization's first DVD in Charlotte, North Carolina.
"I look forward to helping the PITL family learn how to pursue their God-given destiny with faith and conviction," Ray said. "I have not had a chance to be on stage with the group in over four years, so this will be like a family reunion for me." Ray will also be signing copies of her book, Rays of Motivation.
PITL supports artists from various backgrounds, including pantomime, spoken word, praise dancers, gospel recording artists, Christian rappers, and Christian comedians. The Tenth Anniversary Celebration will include other speakers along with a banquet and ocean front reflections at the conclusion of the weekend.
About Poetry in the Light
Poetry in the Light is a National Christian Organization, which consists of unique individuals with a mission to minister beyond the walls of the church. The organization is committed providing outreach throughout the world, utilizing their God given gift and talents, through the anointing of God, by using various art forms to speak restoration, deliverance, and salvation, while continuing to exemplify a reflection of light through the teachings of Jesus Christ. The group has shared its message of faith internationally with engagements in Ghana West Africa and Mexico as well as locations around the United States.
About Angela Ray
Angela Ray is an award winning speaking and author who has spoken to thousands of audiences around the country. A native of Fayetteville, North Carolina, she created Angela Ray International LLC to empower individuals and organizations. A recognized authority on communication, Ray is committed to transforming lives and developing megastar leaders.