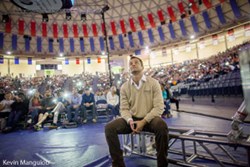 Lynchburg, Va. (PRWEB) September 25, 2013
More than 150,000 people watched the premiere of Kirk Cameron's new film, "Unstoppable," Tuesday night at 700 theaters nationwide through a live broadcast from Liberty University's Vines Center. Many of those theaters reported sold-out crowds.
A few hours before the debut, the film was trending No. 1 on movietickets.com, a website that tracks online ticket sales. Because of popular demand, a second showing has been scheduled for Thursday, Oct. 3, at more than 660 theaters (for locations and tickets, go to http://www.Liberty.edu/KirkCameron).
"Unstoppable" answers some of life's most difficult questions about suffering and explores the victory of the Gospel throughout history.
This is Cameron's first film project with Liberty, which is an official sponsor of the film. Cameron has been on campus to promote it this week and gave a short introduction to more than 10,000 students, faculty, and staff who packed the Vines Center on Tuesday.
"I hope people will watch the movie and come out and say, 'My family's tragedy was not in vain' and that 'God has a plan. God did not create a world where tragedy is senseless. God does not do anything random. He has a purpose and His purposes are unstoppable, and I trust Him,'" Cameron said.
Cameron said many large film studios are calling him to tell him they are impressed with what he did with "Unstoppable."
"It does change the name of the game when they see what we are doing right now. Not only is it a win for me personally, and for Liberty's film school, but also it does affect the way Hollywood looks at the way films can be made and distributed," he said. "As we move into the future, there are even more game-changing moves we are willing to make that 'Unstoppable' has paved the way for."
Cameron said his collaboration with Liberty won't stop with the release of "Unstoppable."
"This has been a wonderful partnership with Liberty, and I have loved it. I have fallen in love with Liberty University, and I hope there is a lot more to come."
Cameron has been a faithful supporter of the university since he had the chance to address students in Convocation last year.
"A big goal of mine through press and social media sites is telling people the future of our world is in the hands of the next generation and in the institutions educating them with the worldview that is going to bring victory for the Gospel — and that is Liberty University," he said.
Scott Van Eerden, a father of a Liberty student, drove from Greensboro, N.C., to watch "Unstoppable" with his son in the Vines Center.
"I think Kirk Cameron did an amazing job of taking an age-old story and telling it in a way that has never really been told before. He answers a tough question in a way that applies to a newer generation," he said. "My son lost his mom when he was 5 years old, and this gives him some questions to deal with. This film addressed a topic that is meaningful to us."
Liberty students said they were also able to take home messages of hope.
"The perspective of the movie was great because it started with stories we start out hearing as children in Sunday school that we do not realize have a deeper meaning," said Hannah Phillips, a freshman nursing student. "Our plan is not always God's plan, but God's plan is always greater, and He has the control and power."
Meghan Godfrey, a junior business student, said she learned that "where God might put a period, we often put a question mark and instead of saying 'Why did God let this happen to me?,' we should be saying, 'What now, God?"
Audiences nationwide shared their views on Liberty's Facebook page:
"Saw the film last night in Dickson City, PA., with my two teenage boys and husband. WOW! Was definitely not what I expected, but it was so much more. We talked about it the whole drive home, and I literally could not sleep. I simply cannot wait until this comes out on DVD so I can watch it again. Thank you Kirk Cameron and Liberty University." — Wendy Stevens
"I went with my two adult children. The film certainly gave us some different views to ponder. My son was in a near-fatal accident. He should have died. We were told he would remain in a vegetative coma. We refused that and all over the world people prayed. God's people raised their voices and much like the soldier on stage (Tim Lee), he was raised up again. There is a purpose for his living and we just thank you for sharing your story and insights in this film." — Sandy Sefcik
The DVD is set to release in January. Students and faculty from Liberty's Cinematic Arts, Zaki Gordon Center have been helping with the DVD special features, including a behind-the-scenes portion.
View the movie trailer, purchase tickets, or learn more at http://www.Liberty.edu/KirkCameron.
Read more about Cameron and his partnership with Liberty in the Summer 2013 Liberty Journal.
About Liberty University
Liberty University, founded in 1971, is the largest private, nonprofit university in the nation, the largest university in Virginia, and the largest Christian university in the world. More than 100,000 students attend classes on its 7,000-acre residential campus and study in its thriving online education program.