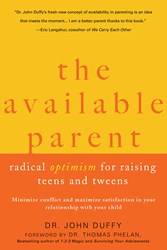 (PRWEB) September 26, 2013
In a recent "Therapists Spill" article on Psych Central, clinical psychologist Dr. John Duffy shared his definition of "resilience" and how to develop it. Dr. Duffy writes, "Resilience is one of the most important elements of our lives."
Tips on how to become more resilient include "keep going," and "practice acceptance." Dr. Duffy's advice is to "know your strengths." The key is to know your strengths. Then, "you can lean into them during [difficult] times, whether they be slight or profound." Knowing your strengths gives you the faith and confidence to endure hard times," he said.
John Duffy is a clinical psychologist and certified life coach with a thriving private practice in the Chicago area. Dr. Duffy works with both teens and adults and specializes in helping parents maximize satisfaction and minimize conflict in their relationships with their teenagers. He is also a regular national parenting and relationships expert on The Steve Harvey Show.
The Available Parent
Radical Optimism in Raising Teens and Tweens
By John Duffy
At a time when many "helicopter parents" micromanage and under-appreciate their children, Dr. Duffy's step-by-step guide is an innovative approach to taking care of teens and tweens. The Available Parent is also available as an audiobook.