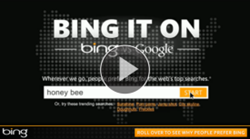 Seattle, WA (PRWEB) September 26, 2013
Microsoft, Razorfish and Starcom MediaVest partnered with Mixpo, a video advertising provider, to develop the "Bing It On" campaign showing Google users what they were missing. The campaign won in the Rich Media: Single Execution category at MediaPost's annual OMMA Awards Celebration. Dozens of advertisers and agencies were recognized for demonstrating outstanding strategic and creative execution for their clients.
The "Bing It On" campaign featured blind search tests and created an interactive in-stream ad campaign bringing side-by-side challenge search functionality directly to web users. The campaign led to an all-time high market share for Bing and delivered over 25 million impressions and 135,000 searches.
"We are excited to have had the opportunity to participate in the execution of this innovative campaign and want to thank OMMA for recognizing the great cross-company teamwork," said Walter Harp, Vice President of Product Marketing at Mixpo. "The OMMA Awards Ceremony in New York City was a blast!"
About Mixpo
Mixpo enables media companies and agencies to execute cross-screen, cross-social video ad campaigns. Our video ad products are polished, innovative, and can be tailored or created from scratch. Setup is fast whether we teach you to do-it-yourself or you utilize Mixpo as a managed service. We furnish the industry's most comprehensive analytics, powered by big data, including ad verification and campaign performance segmented by DMA, audience, and mobile device.
In 2013, Forbes named Mixpo one of America's Most Promising Companies. The IAB selected Mixpo as a winner of its Digital Video Rising Stars competition. Mixpo is headquartered in Seattle, with offices in New York, Boston, and Victoria, BC.