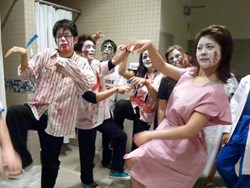 The suggested age for this dark journey with moving monsters in 10 years old and up.
Aliso Viejo, CA (PRWEB) September 27, 2013
Soka University's student clubs are once again combining their ghastly talents to host Soka University's 12th Annual Halloween Fair and Haunted House on October 25th and 26th (Fair: begins at 6 pm, Haunted House: 7-10 pm on Friday and Saturday.)
Tiny fairies, princesses and super heroes will flock to the Halloween Fair in front of the Recreation Center, which is recommended for the little ones and will offer games, activities and food booths. Admission and parking are free.
The Haunted House will welcome older assorted monsters, maids and mermaids on the first floor crypt of the SUA Recreation Center, where the entrancing fee will be $5 at the doomsday door. The suggested age for this dark journey with moving monsters is 10 years old and up. Proceeds benefit the student clubs at Soka University.
Soka University is located at 1 University Drive, Aliso Viejo at the intersection of Wood Canyon Drive and University. The Recreation Center is located on the immediate right of the entrance. Attendees may take the first right and park for free in the parking structure. For a map and driving directions see http://www.soka.edu/directions. For more information, see http://www.soka.edu, email info(at)soka(dot)edu or call (949) 480-4081.
Be there or beware!
Soka University is a private, four-year liberal arts college and graduate school in Aliso Viejo, CA. The university is ranked in the top 50 National Liberal Arts Colleges by US News and World Report's "Best Colleges 2014." SUA offers a 9:1 student/faculty ratio and study abroad for every undergraduate student. Founded upon the Buddhist principles of peace, human rights and the sanctity of life, SUA is open to top students of all nationalities and beliefs. About 60% of SUA's students come from the US and 40% have come from more than 40 other countries. Admitted BA students whose annual family income is $60,000 or less may be eligible for Soka Opportunity Scholarships which cover full tuition. Additional scholarship opportunities are available for higher income levels.