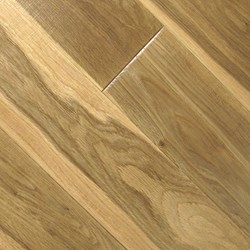 'I have to say oak is my favorite. It's the Superman of the domestic wood species,' says Louie Wang, COO for Johnson Hardwood
City of Industry, CA (PRWEB) September 26, 2013
Once the decision has been made to invest in a hardwood floor, the next question that needs to be answered is "which wood species to choose?" Most popular overall are the domestic wood species. Oak, hickory, maple, and birch are all readily available and can be found in solid and engineered construction. Oak is the leader amongst the domestic group. Oak is seen as the "All-American" wood species having a long history in multiple regions of the U.S., and with the reputation of being strong, durable, and beautiful to look at.
"I really enjoy working with different types of wood," says Louie Wang, Corporate Operations Officer for Johnson Hardwood. "But I have to say oak is my favorite. It's the Superman of the domestic wood species. We've cut it, hand carved it, and machined it in a couple of different ways, and the effects that we get from oak are so impressive from any other wood species."
For the most part, oak is very hard, has the ability to absorb stains evenly, and has a pronounced grain pattern, especially when quarter sawn that is typically used in American interior design. Another characteristic of oak is that it undergoes a moderate degree of color change over time retaining its color over many years.
Hickory is the strongest and hardest of the domestic hardwoods. If durability is a requirement, than hickory can take a beating. Plus, hickory has a coarse texture grain pattern that gives it lots of character. With a hand scraped finish, scrapes or dings will be hard to see. The hickory grain pattern is generally thought of as a representation of the Old West or rustic Americana. However, hickory has a freshly cut and natural look to it that could be used with contemporary furnishing.
Maple hardwood is relatively hard and has an average level of stability making it a great material choice for wood flooring. The grain pattern is fine and yet wavy for a traditional look, and what a person typically envisions when thinking of a wood grain pattern. Smooth finished maple flooring planks have a refined look. While a hand carved finish can accent the grain patterns. Maple is very diverse in that it can be paired with any interior design scheme. Maple's natural cream color blends really well with stains that can range from light grey to ebony.
Birch is sought after for its durability and affordability. The birch grain pattern is straight and tight giving it continuity with not much character for a less distracting pattern. Birch also accepts stain easily giving it the ability to have a plentiful color range. Due to the tight grains, birch can be easily installed using various installation techniques.
Johnson Hardwood is one of the leading manufacturers of premium hardwood flooring with distribution to the United States and Canada. We produce on-trend, high-demand flooring options by sourcing durable hardwood species from around the globe. Our products are recognized for their affordability and superior quality. Plus, we offer the highest standard of worry-free floors in the industry being CARB II and Lacey Act compliant. Each flooring plank is precision milled, hand crafted, and hand stained to produce an exquisite product. Johnson Hardwood floors are manufactured with the greatest care and backed by a warranty that assures complete satisfaction.