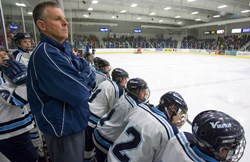 Now you can monitor their heart rate and recovery data in real-time throughout an entire practice or game for much better athlete management
Bozeman, MT (PRWEB) September 26, 2013
Polar H7 Team Bundle allows a coach to manage an entire sports team from an iPad on the sidelines.
"Polar H7 team bundle is one of the best products ever made for indoor team sports like hockey, basketball, volleyball and more", says Rusty Squire, President of the Heart Rate Watch Company, himself a three-time All-American athlete.
HOW IT WORKS
"A coach buys ten Polar H7 Bluetooth transmitters and chest straps, these straps work to register heart rate on over 90% of gym equipment that shows heart rate, which is a nice side benefit for your athletes", says Squire. He adds, "Next you download the Polar Team App to your iPad in the Apple app store, it's complimentary and super powerful".
Then build athlete profiles in the app software. "After that it is just a matter of distributing the Polar H7 transmitters with soft straps to members of the team to wear", says Squire.
"Now you can monitor their heart rate and recovery data in real-time throughout an entire practice or game for much better athlete management", says Squire. He adds, "For line changes in hockey, or player changes in basketball or volleyball, this is critical data".
COMPARE
"You can compare athlete data side-by-side or share individual athlete data with an athlete after practice", says Squire.
THE SCIENTIFIC APPROACH
"Know exactly how well your athletes have recovered because you can see their heart rates when they are sitting on the bench and have all athletes displayed simultaneously on your iPad", says Squire. He adds, "This is cutting edge stuff that used to cost thousands of dollar and now you can set a full team up for under $700".
SHARE IMPROVEMENT OVER TIME
"If you don't measure it regularly then you can't focus upon its improvement, which is true for fitness, shot percentages or anything you deal with as a coach", says Squire. He adds, "The Polar Team App allows you to manage your teams data and know precisely when somebody is overcooked".
"Polar H7 also works with many Polar watches like the Polar RCX5 and others, along with being part of the team system", says Squire/
"If you would like to talk to a real expert about your team's needs then just call the Heart Rate Watch Company at 866-586-7129", says Squire. He adds, "We have real experienced athletes that will give you the very best advice, every time".