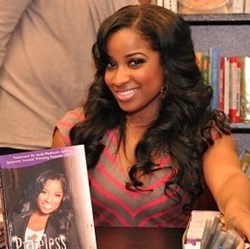 Detroit, MI (PRWEB) September 25, 2013
Rolling Out and the Detroit Recovery Project present VIP Status Program, an HIV/AIDS awareness initiative featuring bestselling author and reality TV star Antonia "Toya" Wright.
In an effort to encourage health and wellness in communities, the Detroit Recovery Project provided Rapid HIV Testing on college campuses, including Wayne State University, Marygrove College and Davenport University.
As an incentive for students who took initiative to be tested, Rolling Out and the Detroit Recovery invited Toya to host a VIP reception for the participants this Thursday, September 26th at several colleges across the city and one private location.
"Forward thinking and positive thoughts are what continue to move us beyond the box people choose to place us in. Positive change doesn't come by sitting back but by working together and leaning on each other to make great things happen. Princess Diana once said, 'HIV does not make people dangerous to know, so you can shake their hands and give them a hug: Heaven knows they need it.' Know your status," offers Toya, who will also be making surprise visits to women shelters in the Detroit area.
The VIP Status Program is an awareness campaign that brings celebrity talent to colleges in the Detroit metro area who share their vision and commitment to health and wellness, career development, financial planning and being a VIP in your own right.
In regards to the program, publisher Munson Steed says, "It is important for celebrities like Toya Wright to embrace and encourage our community to know their health status ... whether it pertains to HIV status, diabetes, etc. We are happy to be on campus, in private forums, celebrating these adults that take a personal investment in knowing their status."
Each event will take Thursday, September 26, 2013 at local colleges in the Detroit area. For more information, please contact Rolling Out at 404.635.1313.