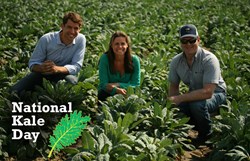 Kale is not only a superfood, it is a powerful magnet for bringing people and organizations together to embrace healthier lifestyles.
New York, NY (PRWEB) September 26, 2013
The first annual National Kale Day boasts an impressive menu of parties and information sessions that reach across the country and around the world—all with the aim of promoting kale's incredible health benefits and culinary versatility.
The events and celebrations will take place at schools, hospitals, farms, markets and restaurants and will include presentations by leading nutritionists, organic farmers, top chefs, medical professionals, health care practitioners and educators. National Kale Day's four cornerstone events will be broadcast via Google Hangouts On Air, allowing unlimited guests to enjoy and participate in these live-streaming events.
National Kale Day was established by co-founders Drew Ramsey, M.D., professor of Psychiatry at Columbia University, and Jennifer Iserloh, certified health coach and renowned healthy cooking expert. National Kale Day's mission is to celebrate this superfood's health benefits and tasty applications. Events and programs are held to promote kale awareness, eating and growing worldwide. The celebration, which will be held annually on the first Wednesday every October, brings together thousands of kale enthusiasts and ambassadors as well as hundreds of related organizations, groups and co-ops.
"Kale is not only a superfood, it is a powerful magnet for bringing people and organizations together to embrace healthier lifestyles," Dr. Ramsey explained.
Iserloh, the Skinny Chef, adds that kale's versatility makes it ideal for everything from healthy chips to chocolate kale fudge pops. "Kale can be used in so many delicious and healthy ways that every day should be Kale Day," she said.
Calendar of Google Hangouts On Air
-------------------------------------------------------------------------------
National Kale Day streams live all day on October 2, 2013 through Google Hangouts On Air. Guests can follow panel discussions and even participate through online Q&A sessions right through their computers. Reserve your free spot at http://nationalkaleday.org/events-on-october-2. Missed a segment? Don't worry. You can watch the replay later in the day.
Hangout #1: Good Morning National Kale Day!
-------------------------------------------------------------------------------
Time: 8:00 – 9:00 AM EST
Start the day with a green carpet kale smoothie; visit the largest Urban Rooftop Farm in New York City; meet a man who uses kale to make super models; hear the voice of a thousand farmers; and see how to grow kale without dirt—all before 9 am.

Roger Noonan (President of the New England Farmer's Union and owner of Middle Branch Farm)
Skinny Chef Jennifer Iserloh (Healthy Cooking Celebrity, Certified Health Coach)
David Kirsch (Celebrity Trainer and Wellness Expert)
Tim Blank (Agriculturist, Inventor of the Aeroponic Garden Tower)
Rebecca Leffler (Writer/Author/Optimist)
Hangout #2: Kale Cafeteria
-------------------------------------------------------------------------------
Time: 12:00 – 1:00 PM EST
Who is serving kale? You'd be surprised. From a vegetarian public school in New York City to a hospital in Indianapolis with a farm on the roof, kale is bringing healthy ways to the table. Learn from a healthcare leader that focused on food; check in on the kale craze with Well+GoodNYC; hear how Paleo really means Kale; and get tips from a vegetarian clean-eating ripped celebrity trainer.

Amie Hamlin & Lisa Suriano (Co-founders of New York Coalition For Healthy School Food)
Anupama Joshi (Executive Director, National Farm to School Network)
Lisa Harris, MD (CEO and Medical Director Wishard-Eskenazi Health)
Lisa Held (Senior Editor Well+GoodNYC)
Emily Deans, MD (Clinical Instructor Harvard Medical School, Evolutionary Psychiatrist, Paleo Expert)
Adam Rosante, CPT (Founder, The People's Boot Camp)
Hangout #3: Kale Health Summit
-------------------------------------------------------------------------------
Time: 2:00 – 3:00 PM EST
Kale means health and everyone is getting in on it. After a stop at the National Kale Day party in Paris with the Kale Crusader, it is time for a trip to the doctor's office. Yes, the doctor will feed you now. Check in with two MDs who are pros in the kitchen; talk with a top Vermont kale farmer; and learn about farmers' markets as health initiatives with GrowNYC.
Kristen Beddard (Founder of The Kale Project)
Linda Shuie, MD (Palo Alto Medical Foundation)
John La Puma, MD (New York Times best-selling author, physician, and chef)
Tamarack Hollow Farms (Organic Kale Growers in Vermont)
GROW NYC (Non-Profit Organization Managing All NYC Farmers Markets)
Hangout #4: Kale Dance Party
-------------------------------------------------------------------------------
GOOGLE HANGOUT: 7:00 – 7:30 PM EST
FULL PARTY: 6:00 – 10:00 pm EST on location
Venue: Seasonal Whispers, 330 West Broadway, New York City, NY
National Kale Day closes out the day with a party. Hosted at Seasonal Whispers in Soho NYC with lots of kale swag, kale cocktails and the "America's Got Kale: Kale Chip Contest". Enjoy kale cocktails with Van Brundt Stillhouse, owner and craft distiller Daric Schlessman, amp up the nutrition with easy appetizers by Skinny Chef Jennifer Iserloh's kaleonnaise, and meet National Kale Day's founders and 2013 partners.
Please visit http://nationalkaleday.org/ for more information on National Kale Day, reserving a seat for the live-streaming Hangouts on Air, as well as kale resources, recipes and background.