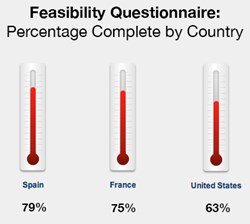 The gold standard is to receive 50% of surveys back. To get 75% back is extremely impressive.
(PRWEB) September 30, 2013
TrialNetworks reported that ARIAD Pharmaceuticals, Inc. streamlined clinical trial site selection with a 75% response rate from potential sites located in 15 countries for a pivotal Phase II oncology study, besting the gold standard response by 25%. ARIAD chose to implement TrialNetworks Feasibility Survey because the online app makes collecting structured information from potential or existing sites quick, efficient and pain-free. In addition, Feasibility Survey integrates with other apps in the TrialNetworks platform to ensure a seamless transition from feasibility to site activation, training, document management, and the entire study startup process.
The majority of feasibility surveys are conducted inefficiently – often using paper, standard office spreadsheet programs or, at best, broad consumer survey software – typically yielding illegible, illogical, delayed and incomplete responses. This places a significant burden on the sponsor and CRO study teams to manually track non-responses, chase domestic and global sites to fill in missing or incorrect answers, and attempt to analyze responses across multiple versions of inconsistent formats.
Feasibility Survey solves these challenges by enabling sponsors to deploy secure, intelligently designed and easy-to-use surveys which guide study coordinators through survey completion, ensuring all questions are appropriately answered. Response options are formatted as clear, interactive fields (e.g. multiple choice, ranking tasks, free text, etc.) and can include text or video to guide respondents and encourage completion. Email reminders, custom alerts and detailed reporting provides sponsors with transparency into the survey progress so they can follow up efficiently with key sites yet to respond.
ARIAD, headquartered in Cambridge, Massachusetts and Lausanne, Switzerland, is an integrated global oncology company focused on transforming the lives of cancer patients with breakthrough medicines.
Jeff Davis, Associate Director, Clinical Operations at ARIAD Pharmaceuticals, said, "ARIAD enjoys a strong collaboration with TrialNetworks and we were highly encouraged by the response we received using Feasibility Survey. Integrating these assessments into the rest of the platform ensures we realize the full benefits of TrialNetworks including more efficient processes, reduced time and cost, and a welcoming site experience. TrialNetworks technology makes it easy for sites to provide ARIAD with reliable information which we will use to make critical site selection decisions, and gives us clear visibility into and more control over global clinical operations than ever before."
To prepare for the selection process, ARIAD sent the TrialNetworks Feasibility Survey to nearly 300 sites globally and received 225 responses – a huge accomplishment, says ARIAD Clinical Trial Manager Jay Pietrantonio: "The gold standard is to receive 50% of surveys back. To get 75% back is extremely impressive. The TrialNetworks Feasibility Survey app enabled ARIAD to meet our aggressive timeline for site selection by quickly identifying sites we are confident will enroll and exceed expectations in this pivotal trial."
The TrialNetworks platform is the industry's only Clinical Trial Optimization System proven to improve results from startup through closeout – including feasibility, site activation, patient recruitment and retention, site engagement and conduct – all from one centralized interface.
Eric Silberstein, CEO of TrialNetworks, said, "We are thrilled to partner with forward-thinking customers such as ARIAD who seek innovative solutions to make clinical operations more efficient. Equipping operations teams and sites with modern and efficient technology from feasibility through to closeout is becoming a critical success factor for sponsors and CROs."
To discover how the TrialNetworks platform is revolutionizing clinical trial optimization, request a demo at http://www.trialnetworks.com.
About TrialNetworks
TrialNetworks provides sponsors and CROs, the industry's only Clinical Trial Optimization System. Using modern and intuitive technology, the TrialNetworks platform increases the quality and efficiency of clinical operations at each stage of a trial from feasibility through closeout. TrialNetworks apps, including Checklist, Document Library, Visit Guide, Action Items and Directory, are available in a unified and secure cloud-based interface. Customers ranging from top-10 pharmaceutical companies to biotechs have implemented the TrialNetworks platform for use in Phase I-IV studies by more than 20,000 site staff in 60 countries. To learn why sponsors rely on TrialNetworks to optimize clinical trial operations, request a demo at http://www.trialnetworks.com.