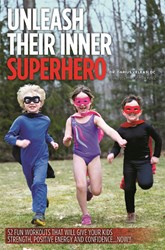 Ladera Ranch, CA (PRWEB) September 26, 2013
The new book by Dr. Darius Veleas,D.C., "Unleash Thier Inner Superhero: 52 Fun Workouts That Will Give Your Kids Strength, Positive Energy, and Confidence... Now!!" is available for free on Amazon's Kindle.
"I wanted to give as many parents as possible the tool they needed to get their kids off the couch and exercising properly," stated Dr. Veleas. "I've got three young kids of my own so I know how valuable it is to get proper exercise into their daily routine."
Dr. Veleas' book, which is published by Anderson-Noble Publishing, a division of Big Guns Marketing, LLC, is a workout guidebook with 52 weeks' worth of exercise routines. With the release of the paperback version, the Kindle version is being made available for free so that parents can download the book and start using it today.
Dr. Veleas decided to write this book after a 4th of July fun run that was held in Ladera Ranch, California. He and his wife did a 5K, and they entered their kids in the 1k that was designed just for kids. After registered his two daughters who were 6 and 4 at the time. A few neighborhood kids joined in as well.
Well, Dr. Veleas' 6 year old was one of the oldest in their group, and she HATED it. She cried the entire time. Why? Because all of the other kids in their group were ahead of her. He ended up carrying her a lot of the way…when she wasn't sitting on the curb sulking or telling him she wanted to go back or ride her bike instead.
Dr. Veleas realized that he couldn't let that happen again, so the very next day, he took that same group of kids out and started a kid friendly exercise program. Because he designed the program for kids, and not adults, he made it fun and exciting. The end result has been that his kids find themselves in better health and they now love exercising.
For Thursday, September 26th, 2013, Dr. Darius Veleas' book is being made available for free as a Kindle download from Amazon. You can get the book here:http://www.amazon.com/Unleash-Their-Inner-Superhero-ebook/dp/B00F5BVKGC/.