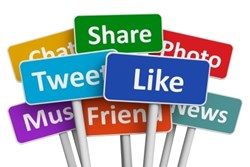 New York, New Jersey, Wilmington DE, Philadelphia, Chicago (PRWEB) September 26, 2013
In almost all business industries, it has become very difficult for small to mid-sized businesses and start-ups to compete online with these mega companies. What chance does a start-up or small-business have when trying to compete online with a company that has thousands of Facebook Likes, Twitter Follows and YouTube Views. Especially if someone is trying to start-up an online business in a highly competitive market. ProfitSearch's plan is for BusinessNetwork4SEO.com to help level the playing field. It's called Give a Like, Get a Like!!
How will BusinessNetwork4SEO.com Website Work?
The website network structure and layout will be quite simple; Various networks will be pre-established by Regions and by Industries so Business owners will have the ability to select whichever networks they wish to join and they can join as many as they wish as well. It will originally be limited to USA regions only, but there are future plans to expand to other Countries.
How can BusinessNetwork4SEO.com help small and mid-sized Business Owners?
Once a Business owner signs-up and joins a particular network, they could potentially get one or more of the following features:

Give a Like, Get a Like on Facebook.
Join Google Circles.
Follow a network member on Twitter and receive a reciprocating follow.
View a network member YouTube video and receive a return view.
Relevant websites can give each other valuable backlinks.
Enter into one of the forums and participate in the SEO or Social Media topic on hand.
Grow a small business through networking by being a member of BusinessNetwork4SEO.com.
By becoming a member of BusinessNetwork4SEO.com, a Business owner could gain online exposure, increase web traffic and get their website better ranking for their targeted keywords.
ProfitSearch is looking for clients and readers to please click on the following NETWORK SURVEY link and let us know what you think about this new network website.
Please contact ProfitSearch at http://www.profitsearch.net if you would like more information regarding this new B2B BusinessNetwork4SEO.com.