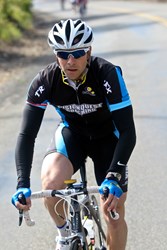 People have truly rallied around the ride and our cause to raise much-needed money for new cancer clinical trials.
Schaumburg, Ill. (PRWEB) September 27, 2013
Ready to make a difference in the fight against cancer, nearly 500 cyclists have signed up to ride the inaugural Trails 4 Trials cycling event on Saturday, Sept. 28, in Goodyear, Arizona. Trials 4 Trials is the first organized charity ride in Arizona's Southwest Valley, benefiting new cancer clinical trials funded by the nonprofit Gateway for Cancer ResearchSM.
"We are overwhelmed by the amount of support and enthusiasm received not only from cyclists across the Valley, but also area communities and businesses," says Karen Kay, director of development at Gateway for Cancer Research. "People have truly rallied around the ride and our cause to raise much-needed money for new cancer clinical trials."
Trails 4 Trials is a USA Cycling sanctioned and chip-timed event featuring 100, 50 and 25 mile distances beginning at 6:30 a.m., as well as a 3-mile fun ride for families and casual riders at 10.a.m. The mostly-flat and scenic road bike ride will take cyclists along the Estrella Mountains, with start/finish line at Cancer Treatment Centers of America at Western Regional Medical Center, located at 14200 Celebrate Life Way in Goodyear, Ariz. Registration is $65 per cyclist, and the same low cost for families participating in the 3 mile fun ride.
Robbie Ventura, professional cyclist and two-time El Tour de Tucson winner, will ride with participants and serve as the event's emcee. Robbie is also providing VIP perks to top teams and generous donors, as well as training and performance tips to all participants.
The event will culminate with a free Bike Bash celebration at 10 a.m. for cyclists, spectators and the community alike. Activities include an awards ceremony for top performers, live music, food and drink, children's activities, and high-flying BMX stunt shows presented by the Step Higher Foundation. Phoenix-based radio stations - 93.3 KDKB and 100.7 KSLX - will be at the event as DJs from both stations are participating in the ride to raise money for cancer research.
Put on by the nonprofit, Gateway for Cancer Research, the Trails 4 Trials cycling event is purposed to raise money to fund bold, new cancer clinical trials that give cancer patients hope and new opportunities for better treatments and a cure. Gateway is a nonprofit organization that commits funding to promising cancer clinical trials that help today's cancer patients to feel better, live longer or be cured when it matters most: now.
"Thanks to our generous event sponsors, all registrations and donations will directly fund potentially life-saving cancer clinical trials across the country," said Kay, adding that Gateway is unique among other cancer research charities in that 99 cents of every dollar received funds clinical trials, and not administrative expenses.
Trails 4 Trials signature event sponsors include Cancer Treatment Centers of America and Prime Logic Partners, as well as AHEAD, Sunquest, VMware, Core Performance, Healthyroads, EMC2, International Capital & Management Company, Management Consulting Services and the Chad Eckes family. In-kind donations and event support services are provided by Life Time Fitness, Global Bikes, U.S. Foods, Walgreens and Dunkin' Donuts.
To register for the Trails4Trials cycling event and for more information about the free Bike Bash, visit trails4trials.org.
About The Gateway for Cancer Research
The Gateway for Cancer Research is a nonprofit 501 (c)(3) organization committed to funding innovative cancer research and bold new ideas for lifesaving treatments that can make a difference today. Thanks to generous underwriting, 99 cents of every dollar received funds phase I and phase II cancer clinical trials all over the world to find better treatments and cures for today's cancer patients. Since its founding in 1991, Gateway has supported more than 100 clinical trials and funded millions in leading-edge research, including blending the best of conventional and complementary/alternative therapies. It's time to stop cancer. Get involved today by visiting DemandCuresToday.org, like us on Facebook at facebook.com/demandcures and join the conversation on Twitter @DemandCures.