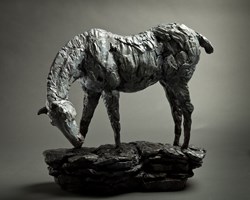 San Diego, CA (PRWEB) September 26, 2013
The National Sculpture Society is the nation's most prestigious sculpture organization whose members have included Daniel Chester French and Augustus St. Gaudens. Each year the society honors top sculptors during its annual awards exhibition.
This year marked the "80th Annual Awards Exhibition," which was shown at the Tampa Museum of Art from May 18 to July 27 followed by Brookgreen Gardens from August 17 to October 27. The exhibition showcased 46 of the nation's top sculptors as chosen by the society. A select number of exhibiting artists were honored with individual awards.
The San Diego based sculptor Mark Edward Adams won the "Beverly Hoyt Robertson Memorial Award" for his bronze equine piece titled "What Lies Beyond." The award is the only one of its kind designed to honor an excellent sculptor under the age of 40. Previous winners of the award have gone on to illustrious careers in the field.
Mark Edward Adams is known for his modern interpretation of horses. His style is reminiscent of early 20th century impressionistic sculptors such as Alberto Giacometti and Rembrandt Bugatti. He has produced a highly expressive body of work that resonates with collectors and viewers.
"I am honored to receive this award and have my work shown alongside artists I admire in this exhibition," said Mark Edward Adams. This was the first time the sculptor exhibited his work through the National Sculpture Society. Adams is currently working on several new bronze equine pieces which will be unveiled early next year.
About The Artist:
Mark Edward Adams was born in Tucson, Arizona and raised in the Phoenix area in a family full of artists and musicians. Despite his initial artistic influence, Mark gravitated toward science and earned an advanced degree in Chemistry. While working as a scientist in San Diego, Mark discovered his passion for sculpture and began his journey into the world of art. He traveled to Italy to study classical sculpture at the Florence Academy of Art and then to Arizona to study modern sculpture at the Scottsdale Artists' School. He studied with several renowned artists including Rod Zullo and Stanley Bleifeld. Mark has been featured in several national publications including Western Art and Architecture, Fine Art Connoisseur, Western Art Collector, Sculpture Review, and The University of San Diego Magazine. He also appeared on the NBC San Diego television show "Art Pulse" in July, 2013. Mark currently works and lives in San Diego.