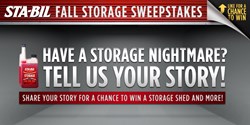 "We're dedicated to helping educate and inform consumers on the best ways to protect, preserve and enhance the performance of the things they love, all year long," said Jennifer Robertson
Chicago, IL (PRWEB) September 26, 2013
With the arrival of fall, it's time to start preparing your favorite summer toys, boats, classic cars and yard equipment for storage during the fall and winter months. To help consumers prepare, STA-BIL®, America's #1 selling brand of fuel stabilizers and ethanol treatments, is launching a "Don't Drain the Tank" campaign to encourage consumers to think twice before draining their fuel tanks this storage season and unveiling a fall storage sweepstakes on the STA-BIL Facebook page with nearly $1,000 in prizes.
"We're dedicated to helping educate and inform consumers on the best ways to protect, preserve and enhance the performance of the things they love, all year long," said Jennifer Robertson, STA-BIL Brand Manager at Gold Eagle Co. "We hope these tips and the sweepstakes help inspire people to store their engines properly this winter and make for a smooth, easy transition when they start back up next spring."
With many Americans starting to prepare for the colder months ahead, STA-BIL's director of marketing, certified mechanic and power equipment industry expert, Tom Bingham advises consumers to store their boats, classic cars, yard equipment and more by filling their fuel tanks with fresh gas and adding a stabilizer, such as STA-BIL "Storage" Fuel Stabilizer, to protect and preserve their engines from condensation, corrosion, gum and varnish build-up and other problems that can lead to hard-starting engines next spring.
FOUR REASONS NOT TO DRAIN YOUR FUEL TANK DURING STORAGE
To help relieve widespread confusion among consumers, Tom Bingham has also developed four reasons why people should avoid draining their fuel tanks during off-season storage due to the potential harmful effects on their fuel system and engines. Reasons include:

1) Water Build-up in Fuel Tank – When you leave the fuel level low, it allows water vapor to condense on the walls of your fuel tank, running down the side and collecting in the fuel causing phase separation. When you start your engine come spring, this water may run through your fuel system and can cause engine damage or even complete failure.
2) Corrosion – Water in your fuel tank encourages corrosion. Particularly in today's ethanol-blended fuels, when water and ethanol mix, it can become acidic and very corrosive.
3) Gum & Varnish Build-up – When you run your engine dry, there is still gas in your fuel system in small amounts, and the droplets are surrounded by oxygen. Oxygen attacks the fuel and causes gum and varnish build-up. Even the smallest amounts can cause a lot of damage inside your fuel system. For example, gum can settle on a seal surface causing a leak or preventing fuel from flowing into the engine.
4) Seal & Gasket Damage – Seals and gaskets are designed to be continuously soaked in fuel and play an important role in keeping fuel flowing to the right places in your engine and out of the wrong places. When they are exposed to air for long periods, they can dry and crack, causing leaks, and requiring replacement.
WIN AN $800 STORAGE SHED FROM STA-BIL
To encourage consumers to start preparing for proper storage of their equipment, STA-BIL has launched the STA-BIL Fall Storage Sweepstakes on Facebook. Now through October 31, 2013, consumers are invited to share their fall storage experiences, nightmares, tips and more for a chance to win* an $800.00 storage shed and STA-BIL "Storage" product by entering HERE.
Visit STA-BIL.com to learn more about STA-BIL branded products, or enter the STA-BIL sweepstakes at http://www.facebook.com/STABILbrand.
About Gold Eagle Co.
For more than 80 years, Gold Eagle® Co. has been an industry pioneer in the production and distribution of aftermarket fluids and additives. We create products that help preserve, protect and enhance the performance of engines everywhere. We are a leader in the product development, manufacturing, marketing, and distribution of branded engine performance and maintenance chemicals. Privately held and headquartered in Chicago, Gold Eagle Co. is the manufacturer of leading brands, including STA-BIL® Fuel Stabilizer, HEET® Gas-Line Antifreeze, NO LEAK® Treatments, 104+® Octane Boost, Start Your Engines!®, DieselPower!® Diesel Additives, 303® Aerospace Protectant and 303® Fabric Guard. To view our complete line of Gold Eagle products or learn more about the Company, please visit http://www.goldeagle.com or "like" our Gold Eagle Co., STA-BIL, Start Your Engines! or Engine Answerman pages on Facebook. For product questions, please call us at 800-621-1251 or follow us on Twitter @GoldEagleHelp.
All trademarks, service marks and trade names, including STA-BIL®, HEET®, Start Your Engines! ®, NO LEAK®, ALUMASEAL®, Gold Eagle®, DieselPower! ®, Golden Touch®, 104+®, Cool Rides Online®, 303® Aerospace Protectant and 303® Fabric Guard used herein are trademarks or registered trademarks of Gold Eagle Co. The aforesaid families of related marks, images and symbols are the exclusive properties and trademarks of Gold Eagle Co. Any other product or company names mentioned herein are the trademarks of their respective owners.
(*) Must be a U.S. resident. See official rules for eligibility, restrictions and more details