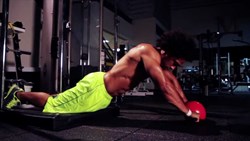 Kansas City, MO (PRWEB) September 26, 2013
Having a personal trainer at your fingertips is a luxury that most people just don't have. But now, with the help of a smartphone and a new core-workout device, you can create an abdominal workout regime that's different each day.
Former Mizzou Tigers football great Tommy Saunders is making customizable, personal abdominal workouts a reality thanks to his new killer ab device – the Rock 360 – and the aid of an innovative new app from Engage Mobile. Engage Mobile is an award-winning mobile strategy, mobile development and mobile marketing company based in Kansas City.
This new fitness tool, dubbed the "ultimate core trainer," features a 360-degree ab wheel that can roll in any direction, allowing people to work all 29 core muscles as they're preforming different rolling exercises, Saunders says. The best part, however, is that users can attach their smartphones to the top of the device and tap into a number of features – from selecting their workout level, to watching videos of how to perform the exercises, to counting down the number of seconds left for each set.
"There's no other product on the market like our product, the Rock 360, with the phone-integrated technology … it's like a personal trainer at your fingertips," says Saunders, who is marketing the product on his website at getrock360.com. The app, which is built for iPhone and Android, integrates images for each exercise, includes video tutorials and coaching, and displays a timer for each repetition/set.
From the comfort of their own home, users can feel like they're working out at the gym with other fitness buffs, thanks to the smartphone app. While other apps track distance, for example, the Rock 360 app highlights correct form and allows users to build on to their routine by adding new exercises as they use it.
Thanks to Kansas City-based Engage Mobile, Saunders was able to tap into high-level technology even though his venture is a very small business. Engage Mobile's flexibility in working with his small start-up budget made getting this cutting-edge technology that much sweeter.
"They helped me work with a small budget and build my app in steps," Saunders says. "And they delivered on what they promised – within budget, within the timeframe, and getting a product that worked."
"At Engage Mobile we work with companies ranging in size from start-ups, like Rock 360, to multi-billion dollar companies," says founder and CEO Darrin Clawson. "Our passion is helping clients succeed in the marketplace with unique mobile solutions. Tommy Saunders has a revolutionary concept, and we are excited to play a role in his success."
Saunders says he looks forward to adding more features, like interactive games, to the Rock 360 app in the future, when funds allow. He plans to integrate applications that allow users to see how many calories they're burning with each repetition or highlight on-screen which muscles they're working as they do each exercise.
Engage Mobile is one of the fastest growing mobility companies in the country. Having recently signed clients in New York, New Jersey, Washington, Colorado, California, Texas, Kansas and Missouri, Engage Mobile continues to prove to clients – even very small businesses – that its unique approach to the mobile market generates results. Visit http://www.engagemobile.com to find out how your company can take full advantage of mobile.
Visit http://www.getrock360.com for more details on the Rock 360 ab device and to learn how you can step-up your typical ab routine.
###
Engage Mobile Solutions is a mobile strategy, mobile development and mobile marketing company based in Kansas City, Mo. It helps companies leverage mobile technology and marketing to drive profitability through increasing revenue, decreasing costs and managing risk. For more information about Engage Mobile Solutions, visit http://www.engagemobile.com or contact Matthew Barksdale at mbarksdale(at)engagemobile(dot)com.
The Rock 360 is an omni-directional abdominal device that combines fitness with the latest technology, adding a new dimension to workouts. http://www.getrock360.com to learn more about this revolutionary product.