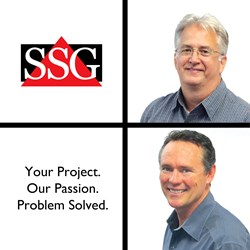 Dallas, TX (PRWEB) September 26, 2013
Dallas-based software professional services company SSG today announces the addition of Chris Durham as senior consultant and John Hoff as account manager to the company's data management practice.
In his role as senior data management consultant, Durham will be responsible for project management, business analysis, data warehouse architecture, and the implementation of all Informatica solutions, including Data Integration, Data Quality and Application Information Lifecycle Management. Prior to joining SSG, Durham was an enterprise architect with IBM working with clients in the financial, transportation, telecommunications and retail industries. Before IBM, he directed data warehousing and business intelligence for Stonebridge Technologies.
"Chris is an experienced IT professional with full-lifecycle development experience," Paul Scott, the director of professional services for SSG's data management practice, said. "He will be a talented asset to our services team and I look forward to working with him."
Hoff will extend SSG's growing presence in the Denver area and will be an integral part of the practice's business development team as they pursue product and services opportunities throughout the Central U.S. Prior to SSG he worked at Oracle as a consultant and trainer.
"John will help enable our clients' important data management project initiatives across Informatica's Enterprise Data Integration, Data Quality, Master Data Management and Information Lifecycle Management solutions," David Hermanski, the managing director of SSG's data management practice said. "We're excited to have him on board."
For more information about SSG's services, please visit http://www.ssglimited.com.
About SSG
Founded in 1997, SSG, Ltd. is a Dallas-based Oracle Gold Business Partner and Informatica Channel and Consulting Partner specializing in Billing and Revenue Management (Oracle BRM), Data Management (Informatica Platform and Oracle DW/BI) and Custom Software Development. As a premier software professional services firm, SSG specializes in building trust-based relationships and solving complex problems in business-critical applications for our clients. The ideal SSG client has made significant investments in technology and values a partner they can depend on to bring a depth of experience and solve their technology challenges right the first time. SSG prides itself on providing the highest quality service to its clients with an unrivaled level of professional integrity, and is also proud to have been named one of the Dallas Business Journal "Best Places to Work" for three consecutive years.