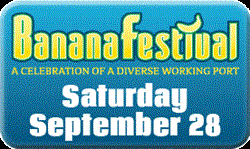 Port Of Hueneme (PRWEB) September 26, 2013
Go Bananas at The Port of Hueneme! The 2nd annual Banana Festival is a celebration of America's favorite fruit and a vital commercial trade gateway. Learn about the journey of the banana and the inner workings of one of the U.S. top 10 banana ports while enjoying delicious banana treats, music, and fun for the whole family.

Great food, delectable banana desserts, live bands, arts and crafts marketplace, and kid's fun zone.
Port tours, educational displays, and an auto pavilion.
Free admission.
WHEN: Saturday, September 28, 2013
WHERE: The Port of Hueneme, 105 E Port Hueneme Rd, Port Hueneme, CA 93041
TIME: 10:00 AM – 5:00 PM
For more information, visit the Banana Festival website at: http://www.bananaportfest.com.
###