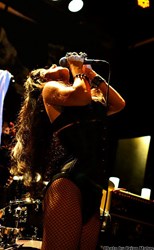 '[I]f you'd like to lose yourself in rock-induced hypnosis, let Pleroma be your invitation.' -Sara Latourneau, Sonic Cathedral Magazine
New York, New York (PRWEB) September 27, 2013
NYC based quartet Vajra have confirmed that they will play the WPDH Roof-A-Thon this Sunday September 29 at 6:30 p.m. at The Chance Theatre in Poughkeepsie, NY.
101.5 WPDH has been on the air for 35 years, and through those years WPDH has contributed many hours to various local charities. This year marks the 28th anniversary of the most famous WPDH Hudson Valley Fundraiser, ROOF-A-THON. This year the WPDH Roof-A-Thon will be the weekend of September 27, 28 and 29 and will be held in the memory of the station's dedicated host Mark Cooper. "Coop" has hosted many Roof A Thons dedicating hours and hours to raising money for the kids. This year, everyone will pitch in and continue his vision and do whatever they can to help the kids and anyone affected by Type 1.
Band founder and vocalist, Annamaria Pinna states: "I am so excited to get back to my roots and play this event. I grew up listening to WPDH and dreamt of playing The Chance Theatre as a child. This is a return home, and I am so grateful for this opportunity, and for such a great cause."
This show wraps up the band's recent Equinox Tour after playing at The Mercury Lounge in NYC, the Utica Music & Arts Festival in Utica, NY, BSP Lounge in KIngston, NY, The Legendary Dobbs in Philadephia, PA and The Dewey Beach Music Conference & Festival in Dewey Beach, DE.
Following the tour, the band is going to focus their efforts writing new material for their second album, slated to be released next year.
Vajra is quickly generating a buzz after selling-out their first show in November, 2011 (at The Bowery Electric in NYC). Virgin America selected Vajra's single "Erode The Will" for their In-Flight Entertainment Series in December, 2011, and the single was also selected for the Red Gorilla SXSW 2012 Compilation and the Go-Girls Music Fest 2012 Compilation. The Band also was selected as a Supercuts Rock The Cut Ambassador. The band has played to sold-out audiences at: The Bowery Ballroom (NYC), The Mercury Lounge (NYC), The Bowery Electric (NYC) and also performed 2 shows at The Red Gorilla Music Festival and the Texas Rockfest down at SXSW 2012 and completed a successful West Coast tour in Summer 2012, performing at Sylvia Massy's 4&20 Blackbird Music Festival, The Bottom of the Hill in San Francisco and The Roxy in Los Angeles. Vajra also just signed licensing deals with Viacom, The Discovery Network, Showtime and Bravo.
For show information, see Vajra's Facebook page: http://www.facebook.com/vajratemple.
Sunday, September 29 at The Chance Theatre, 6 Crannell St., Poughkeepse, NY (http://www.thechancetheater.com/)