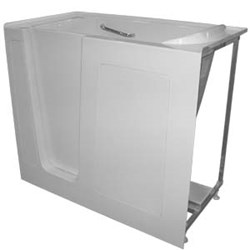 This premium walk in tub is ideal for a renovation or new construction project.
New York, NY (PRWEB) September 26, 2013
Elderly bathing company, Aging Safely E-Commerce announces the deep soaking 31" x 55" hydrotherapy walk in bath. This ultra-deluxe model is purposefully designed to fit into most traditional bathtub spaces. The product comes with a 5" extension kit for projects that have up to a 60" space to fill. Several of the models are designed to be freestanding tubs, although the company also supplies a large selection of products that come standard with a tile flange.
Many shoppers may wonder how much does a walk in tub cost. The short and simple answer is, from a couple thousand dollars upwards to several thousand. Fortunately Aging Safely E-Commerce offers shoppers a convenient, fast and secure way to purchase walk in tub products online. The company offers discounted prices nationally on several of the best brand name hydrotherapy tubs and elderly showers.
According to the company, their online shopping cart store is packed with detailed product information. Potential customers can download a variety of materials that include information such as product specifications, internal seat widths, drain configurations and accessory options. There are also several high resolution photos of the low access tubs and shower units that can be printed out.
Finding the best appliance for the application and customer is the company's primary objective. A step in tub isn't always the right solution for all bathers. In some instances, the bather may not have use of their legs and extremities. In these instances, a wheelchair accessible shower may be the best solution. Or perhaps a transfer bath is the best option, because it can be used in conjunction with a lift. The 3060WCA model has a removable panel on the front that can accept forks from a lift. In addition, the sidewalls are low enough to make it possible for a caretaker or loved one to assist in the bathing process.
Customers can now easily shop for ADA complaint showers and safety grab bars from the convenience of home or work. This special online store has several unique accessory options as well. Upgrades such as bath seat cushions, bathtub lifts, chromatherapy mood lighting, radiant heated backrests and aromatherapy. Another option that shouldn't be overlooked is the warm air hydrotherapy and the whirlpool jets. Unlike traditional hot tubs, these spas don't require any type of chemicals during operation. Bathers can put in bath salts and essential oils if desired, but don't need to add chlorine or any other cleaner to the water. This may be a potential selling point for those looking into homeopathic alternatives to wellness.
The company has representatives standing by 24 hours per day that can offer non obligatory consultations. Homeowners, commercial facilities and contractors will enjoy the easy ordering process that allows for drop shipping anywhere in the United States and Canada. Those who would like more information are encouraged to visit http://www.walkbathtubs.com to view the full product line. Furthermore according to the company, special promotional codes that offer shoppers additional savings and discounts are randomly announced through social media networks.
Contact Information:
Zachary Wennstedt
720-495-5497
info(at)walkbathtubs(dot)com