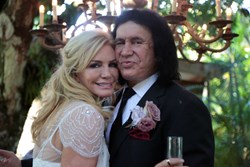 (PRWEB) September 28, 2013
This past weekend famed rocker Gene Simmons from KISS and his wife Shannon Tweed renewed their vows. Yes they are still technically newly weds as only officially tying the knot last year after being together for nearly 30 years. Shannon Tweed wore an elegant gown designed by Badgley Mischka. The luxury wedding event was designed by famed Japanese wedding planner Yoshi Nojiri of "Take and Give Needs" company. Nojiri is the youngest entrepreneur to take his company publicly traded in Japan. His company produces 18,000 weddings a year.
The stunning decor floral arrangements of thousands of brightly colored wild orchards along with the crystal chandeliers in a French Versailles style garden, made for a romantic fairytale theme. The chandeliers were flown in from Las Vegas specifically for the event. This over the top ultra glamorous style is what Yoshi Nojiri is famously known for.
Dom Perignon champagne was freely flowing and the catering was provided by Sugar Beach Events of Hawaii.
Guests were entertained with an impromptu concert where Gene and his family jumped on stage with the band to jam together. Gene played the bass while his son and daughter sang classic rock standards and jazz tunes. The family said this was a first time they did this sort of thing together.
Conde Nast Traveler rated the location of the event, Haiku Mills, where Gene Simmons had his ceremony, number 2 in the country and top 25 in the world for wedding event destinations.
This is all part of "The Ultimate Wedding Planner" movie Sea Star Films is producing, directed by Celia Evans.