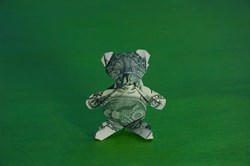 North Clarendon, VT (PRWEB) September 26, 2013
In a follow up to the best-selling book and DVD set series Money Origami and Mini-Money Origami, authors and co-founders of the internationally recognized Origamido Studio, Michael G. LaFosse and Richard L. Alexander have announced the release of their third money-folding title LaFosse & Alexander's Dollar Origami.
Their newest book and DVD set will be released on October 15 and will share twenty original and incredible projects creatively designed to be made out of dollar bills. Folded money models make great gifts, tips, decorations and conversation starters. LaFosse & Alexander's Dollar Origami makes it easy for readers to follow along with a wide range of projects from the quick and simple to the more elaborate and challenging.
In addition to the unique and exclusive collection of twenty paper-folding projects, the book includes:

Step-by-step instructions
Origami diagrams
48 tear-out practice "dollar bills" with quick-start folding lines for the first five projects
An instructional DVD with more than three hours of lessons, detailing each project in the book
Printed currency is easy to fold, remarkably durable, intricately patterned, and readily available. Money folders don't need to carry any other materials or tools and finished objects may always be reused as currency. Whether readers are folding The Windmill Pillow, Prosperity Bamboo, The George Washington Knot, or Drahcir the Dragon, they will be delighted with the results. LaFosse & Alexander's Dollar Origami can be pre-ordered from Amazon and is also a great holiday gift idea for banks and financial institutions to pass on to their clients and employees to wish them financial fortune in the New Year.
About the Authors
Origami master Michael G. LaFosse is co-founder of the Origamido Studio, a learning center and design studio dedicated to the art of origami, and the only place in the world specializing in hand papermaking for the origami artist. LaFosse was prominently featured in the recent Peabody Award-winning documentary, Between the Folds.
Teacher Richard L. Alexander co-founded the Origamido Studio, where he conducts hand papermaking workshops for artists. Together, Alexander and LaFosse have created dozens of origami exhibitions, and more than seventy books, kits, and videos about paper and paper arts.