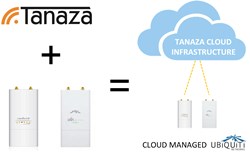 Tanaza is the best solution so far to have centralized control and real-time monitoring for all our customers Wi-Fi networks.
Milan, Italy (PRWEB) September 27, 2013
Tanaza's goal is to empower any Wi-Fi Access Point and make it cloud manageable, providing extreme levels of operational efficiency. Changing IP addresses, WPA keys, SSID names, radio channel of multiple devices remotely – just a few of the configuration capabilities provided by the Tanaza Dashboard - are today available also for two new outdoor Wi-Fi Access Points: Ubiquiti UniFi Outdoor and Ubiquti Rocket M2.
According to Sebastiano Bertani, CEO of Tanaza, "We added support for cloud-management to UniFi Outdoor and Rocket M2 in response to multiple enquiries by solutions providers offering managed Wi-Fi in parks, camping and caravan sites, as well as other outdoor locations. We already supported other outdoor devices, but in some cases our partners wanted to add cloud management capabilities on top of existing deployments where specific models were already in place."
Zucchina Technologies, a Wi-Fi solution provider operating in Northern Italy, recently upgraded the Public Wi-Fi of the Sempione Park, in the city of Milano, with Tanaza. Andre Claude Benin, CEO of the company, stated that, "Upgrading the UniFi Outdoor units of this deployment allowed to significantly increase the manageability of the network, without having to replace any hardware. Tanaza is so far the best solution to have centralized control and real-time monitoring for all our Wi-Fi networks, such as the Valentino Park in Turin."
A part from cloud-based manageability, Tanaza literally adds extra features to the empowered Wi-Fi Access Points, such as multi-ssid (up to 8), real-time statistics and power strength of connected clients, captive portal, multi-nat, vlan tag and more. A complete list of the Wi-Fi Access Points that can be Tanaza Powered and features can be found here.
About Tanaza (http://www.tanaza.com)
Founded in 2010, Tanaza's mission is to make Wi-Fi management easy and affordable, by removing the need for expensive hardware controllers and enabling remote management of any vendor access points in multiple locations through one intuitive interface.
A demo, free trial or quotation is available by contacting your local Tanaza Channel Partner or Tanaza http://www.tanaza.com, sales(at)tanaza(dot)com or +39 02.8718.8553.