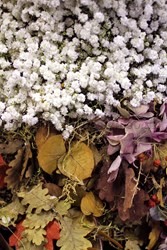 'Classic all-white bouquets are still favoured amongst many brides,' says head florist Kalina Lokinska. 'The royal bouquet had a huge impact on UK brides as we are regularly asked for white and soft pastel wedding flowers.'
(PRWEB UK) 28 September 2013
The Earls Court National wedding show is held in the autumn season every year and features over 200 wedding specialists, inspiring catwalk shows and feature demonstrations. The exhibition provides all the assistance under one roof that brides need to plan their special wedding day.
Todich Floral Design will exhibit at the show with a display that is the cutting edge of fashion. Determined to stand out from the crowd, the London florist is mixing fashion and flowers with a trendy antique chic twist!
Head designer Laura Fisher was able to source a French antique mannequin which will be dressed in beautiful floral attire. A wire mesh base will be fitted around the figurine and woven through with elegant white phalaenopsis orchids and gypsophila. The dress is designed to flow to the floor in a sea of white wedding flowers and autumnal oak leaves.
'The top of the dress will be laced with stunning white flowers and will blend into autumn shades,' says florist Nele Macijauskaite 'We will also be decorating the dress with pretty pearl pins and sparkling diamante jewels.'
The London florist will be designing a bridal bouquet for each day of the wedding show. The wedding bouquet will be fastened to the dress and will incorporate similar colours and flower trends to those popular amongst today's brides.
Todich Floral Design will be positioned at the front of the show and will offer personal one-on-one consultation with a member of their talented team; talking through colour and flower choices, the team hope to create a more friendly and personal approach to their London brides.
The wedding show is being held from Friday 27th – Sunday 29th September 2013.
About Todich Floral Design – Flower Shop in London
Todich Floral Design is an award winning wedding florist based in London. The company designs beautiful and bespoke flower displays which are exhibited at the National Wedding Show on a yearly basis. Todich Floral Design can provide wedding flowers for all weddings that are held in Greater London and the surrounding Home Counties.