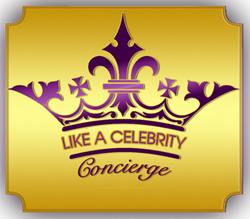 'We're a bunch of gutsy, heart centered, passionate women who want it all - career, family, love, happiness and inner bliss...' - Kenya Murray
New York, NY (PRWEB) September 26, 2013
The countdown is on for Like a Celebrity's 2nd seasonal #SuperNova Twitter Party! The party promises 60 minutes of fun, prizes, and expert information for driven career women and entrepreneurs.
The #Supernova Twitter Party takes place on Thursday, 9/26 from 9p-10p EST. Join the gurus @LikeaCelebNYC and @QianatheGoddess along with a panel of small business experts and special guests to discuss the unique obstacles women encounter when balancing business, career and life. Simply follow along by using (hashtag) #SUPERNOVA to chat real-time with experts in business, lifestyle, health/wellness, finance and accessories.
For the second year in a row, an eclectic group of women entrepreneurs, known simply as #SUPERNOVA is hosting a virtual networking party on Twitter. #SUPERNOVA is comprised of women with different backgrounds and business genres, who through networking and mutual friendships discovered how little support there is for women leaping into the business world to live out their dreams.
"Women are well known for being catty with one another and it's a trait that brings us down so easily. Competition in corporate environments and small business America is more than enough on its own. We should be uplifting one another all the time. We all gain success as a result. Your success is my success," says Qiana Williams, owner of Writings of the Goddess, a public relations and marketing firm.
Kenya Murray, the founder and chief relationship manager of Like a Celebrity LLC says of her clique: "I love how we continuously support one other with ingenious services and creative concepts. We're a bunch of gutsy, heart centered, passionate women who want it all - career, family, love, happiness and inner bliss - but we're not willing to let go of the craziness of running our own business because we're not built to give up. Instead we rally together to uplift and inspire one another."
The #Supernova Twitter Party panelists include:

Qiana Williams, owner of Writings of the Goddess - @QianatheGoddess
Kenya Murray, chief relationship manager of Like a Celebrity, LLC - @LikeaCelebNYC
Velvet Lattimore, designer + creator of Vedazzling Accessories - @VedazzlingAC
Tanya Brown, jewelry designer + spirit of Lauren St. Julian - @LaurenStJulianj
Wiltona Watson, finance + accounting Expert - @MySingleOpinion
Asha Tarry - founder/CEO of Collective Advocates for Social Change - @AshaTarry
The #SUPERNOVA clique is also offering over $500 in raffle prizes for all registered participants, although it isn't required to register to be heard, retweeted or participate in the party.
Prizes include jewelry from Lauren St. Julian and owner, Tanya Brown.
A lucky winner will also receive a designer handbag provided by Velvet Lattimore, owner of the Brooklyn boutique Vedazzling Accessories. Both of these ladies offer luxury, moderately priced fashion accessories to their customers.
Prizes from Writings of the Goddess and Like a Celebrity, LLC will also be given out during the #Supernova Twitter party by way of an eloquently written resume or bio and a virtual assistant membership package.
To be eligible for prizes, you must register and follow both Kenya and Qiana's companies on Twitter.
The seasonal Twitter parties are only the beginning of many more great things to come as these #SUPERNOVA ladies continue to cater to the global rise of women entrepreneurs and career women. They have plans to host virtual events, charity galas, workshops and shopping events.
About Like A Celebrity, LLC
Like A Celebrity is a boutique full service virtual and personal assistant agency serving metropolitan areas. Since 2008, Like a Celebrity's team of U.S. based professional assistants have been dedicated to the advancement of entrepreneurs and busy professionals. The company offers affordable access to round-the-clock virtual assistants and personal assistants on an as-needed basis. Like A Celebrity liberates entrepreneurs and busy professionals from the little things, so they can get more done, make more money, and have more fun. For more information visit http://www.likeacelebnyc.com/.