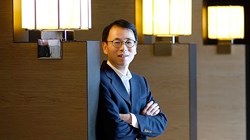 Joining the WTO anchored China's domestic reform a decade ago and laid the foundation for the boom afterwards. China needs a similar anchor to move the reform forward.
Hong Kong (PRWEB) September 30, 2013
Congratulations to Dr Andy Xie, renowned Chinese Economist, for being named one of "50 Most Influential Persons in Finance" by Bloomberg, on 3 Sep 2013.
Andy Xie
Independent Economist
A former Morgan Stanley economist, Xie sees bubbles forming in many places. Xie says China isn't doing enough to foster growth and suffers because too much wealth is tied up in inefficient state-owned enterprises.
~ Bloomberg
Dr Xie is represented by China Speakers Agency for his speaking engagements.
Dr Andy Xie
Dr Xie is one of the few economists who has accurately predicted economic bubbles including the 1997 Asian Financial Crisis and the more recent subprime meltdown in the United States.
He joined Morgan Stanley in 1997 and was Managing Director and Head of the firm's Asia/Pacific economics team until 2006. Prior to that, he spent two years with Macquarie Bank in Singapore, where he was an associate director in corporate finance. He also spent five years as an economist with the World Bank.
He is currently director of Rosetta Stone Advisors.
About China Speakers Agency
China Speakers Agency, the international speakers bureau with a China focus, serves as your hub for finding the speaker(s) that will best fit your event needs. Our service is particularly useful for organizations that are:

MNCs looking for concrete know-how on how to do business with / in China
Chinese companies entering the global market looking for international experience
Based in Hong Kong and representing renowned speakers from China, Asia Pacific as well as around the world, we are the resources for personalities who bring fresh ideas and new insights.