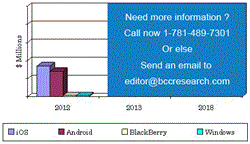 Wellesley, MA (PRWEB) September 28, 2013
According to a new technical market research report, Mobile Technologies: Global Markets from BCC Research (http://www.bccresearch.com), the global market for mobile applications was valued at $6.5 billion in 2012 and is expected to reach $8.6billion by 2013. BCC Research projects the market to grow to $16.3 billion in 2018, and register a five-year compound annual growth rate (CAGR) of 13.7% from 2013 to 2018.
Consumers are adapting smartphones at a faster rate than ever before and it does not seem that there will be any end to this in the near future. As smartphones have become more commonplace, consumers have started using them in ways that were once unimaginable. This has fueled a wide range of application development for these devices. Aided by software development kits (SDKs) from various operating system (OS) vendors along with availability of a marketplace, it has become easier than ever to monetize a new concept and idea for smartphone use.
Growth in this market is driven primarily by widespread acceptance of smartphones as the favored mobile devices in the worldwide market. Falling hardware prices and availability of software development talent have further helped lower the price and affordability of these devices.
This report from BCC Research focuses on the state of the art in the mobile application space. It evaluates current platform availability and the ecosystem and looks at the total available market for mobile applications and segments it by categories. The study also explores different business models followed by different industries and the value added by mobile applications.
In addition, the report provides a description of the market ecosystem and explains the trends shaping the future. Key players in each category are also discussed along with market share information. A forecast of the total market in each category by dollar, volume, and geography over the period of the next five years is included. The report also includes an analysis of patents filed in this marketplace by various companies.
This report is intended for mobile electronics industry insiders, including executives, managers, marketing professionals and salespeople, who are looking to enhance their business knowledge by understanding more about the multimedia chipsets market. This study will also be of value to product marketing and management professionals from the mobile market ecosystem who want to understand the intricacies of the market and position their products accordingly. In addition, business and venture executives in the technology industry looking to invest in mobile technology companies and finance and investment professionals looking to make investment decisions for mobile electronics companies will also benefit from this report.