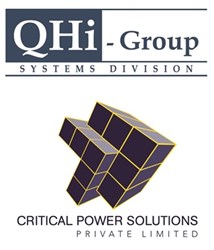 CPS will be fully trained and authorised to market, sell, install & provide after-sales support to the QHi Exertherm™ system.
London (PRWEB UK) 27 September 2013
Critical Power Solutions (CPS) will be fully trained and authorised to market, sell, install & provide after-sales support for the Exertherm™ 24x7 Thermal Monitoring solution.
The Exertherm™ system provides cost effective and continuous thermal monitoring of mission critical electrical infrastructure, (rather than annual thermal scans).
This is highly important for organisations which incur high downtime costs e.g. the Data Center, & Oil & Gas industries, where Exertherm™ has already gained significant adoption with numerous major blue chip Companies.
Critical Power Solutions is a new operating Company set up by the owners of Power Partners (http://www.powerpartners.com.sg) to enable it to focus on the growing demand for solutions which increase safety, increase asset integrity and increase production uptime, in industries which suffer potential high downtime costs, or environmental pollution risk (e.g. waste water etc).
About QHi-Group:
Operating globally from offices in the UK, Europe and the USA the QHi-Group provides a new approach to mission critical monitoring, delivering a comprehensive and unrivalled range of solutions from continuous thermal monitoring through to the management of complex energy systems.

Exertherm™ - the unique non-contact infrared continuous thermal monitoring system is now increasingly being recognised as new 'best practice' over thermal imaging for monitoring mission critical applications.
Exertherm LoadMap™ - a new predictive tool that will dynamically detect and identify compromised joints/terminations on circuits operating at low loads via collation of temperature/metering data
…for further information please contact:- sales(at)qhigroup(dot)com or sales(at)critical-power(dot)com.sg.